Well I guess its about time I've made one of these... I previously drove an
02 GLS Elantra
and thats how I got into modding since it was my first car. After finding this site, I've realized that theres more potential in these cars than most people see in it. So thats why after my accident (
totalled the 02
) I "upgraded" to an 05 model! I liked the 01-03 body more, but I have a thing about used cars... So most of my Audio mods in this new car came straight out of the corpse of my old one, tragic yet that is the circle of life I guess...
Pictures/History:
(pre-Profile) My
Alpine Headunit (CDA-9805)
: I like how at night, its lights match the rest of the green in the dash and console.
My
JL Audio 12" W6
with Ported Box: On the top you can see the scars it received from that last car's accident, but luckily it survived and sounds as good as the day I bought it.
My
15x7 Rota Slipstreams (13lbs)
with
205/55/15 88V BFGoodrich G-Force Sports (20lbs)
(10/27/05) Audio:
JL 500/1
,
JBL GTO75.4
and
Road Rage Capacitor
(11/14/05) Speakers: 2x
6.5" Infinity Reference 6012 si (50rms)
, 2x
6x9 Infinity Reference 960 3i (100rms)
(11/19/05)
Tiburon Sway Bar w/ Metal Endlinks
(No pic): It really is a big improvement over the smaller stock bar with plastic links! (Part#'s 55511-2C100, 2x 55513-2C110 and 2x 55530-29500)
(11/21/05) 35% Tints (No pic): Not so dark (cool) but Great for getting the sun out of my face, plus they are legal.
(11/26/05)
MUSSA Type-B Front Strut Bar
: Looks good and "feels" good, I think... or it might be a placebo effect but I still like it.
(12/19/05)
MUSSA Rear Strut Bar
: Nice and Shiny.
(12/20/05)
ARK Black Billet Antenna
: Shorter than I expected... When they say Four Inches... They mean it.
(04/15/06) Painted License Holder/Finally Clean
(04/17/06) Wendy's EXD Meet North Haven, CT
(05/06/06) Black Rock Park NT Meet Watertown, CT
(05/13/06) Clear Corners and Nightshade Headlights
(05/18/06) Branford, CT
(06/02/06)
Installed Kyb Struts and Eibach Springs
with Help From Swifty
(06/24/06)
West Haven, CT NT Meet
Thats me in front of the car....
(07/17/06) Branford Point, CT
(07/22/06)
Lake George CT Convoy Waterbury, CT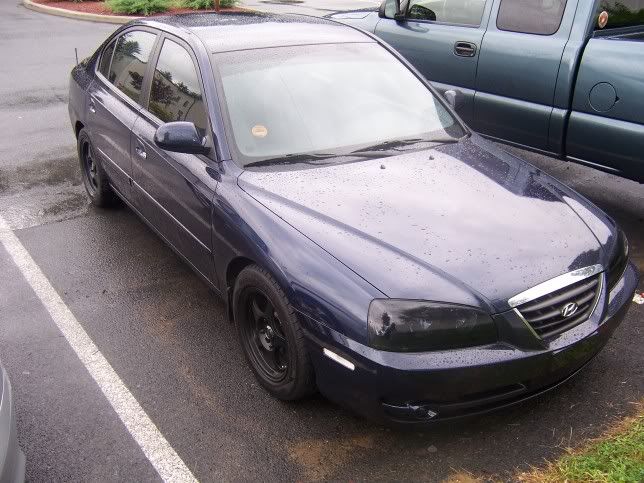 (Ghost Ride Da Whip!)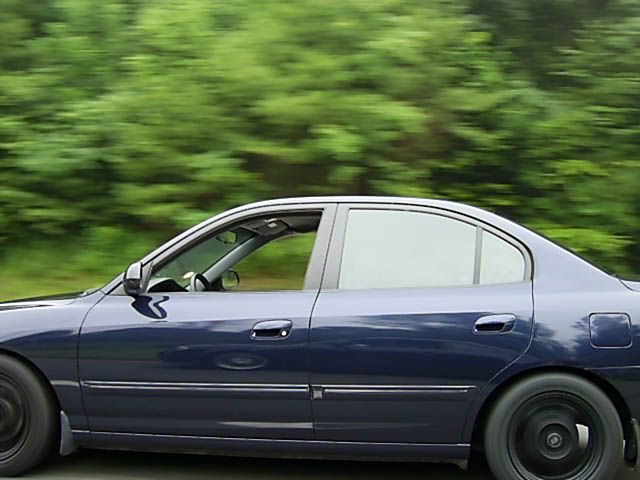 (07/28/06) PIAA Rear Signals (I like how they are blue, match my car's color but shine a really bright white)
Bosch Icon Wipers (Nice and sleek)
(07/30/06)
Endless Dreams Amherst, MA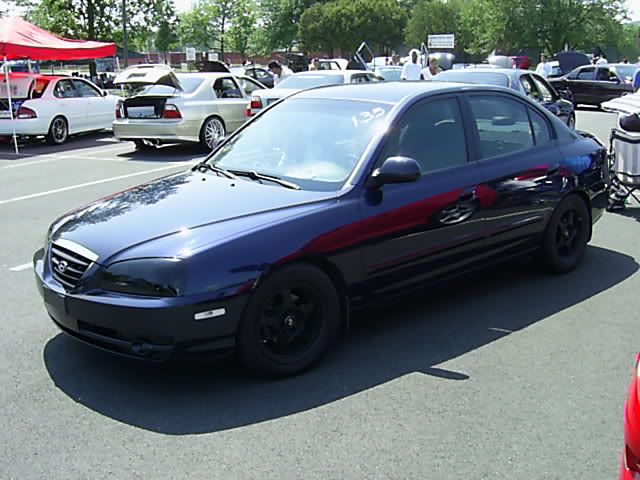 (08/05/06) Kia Front Lip Spoiler Installed (It was a custom hack and isn't 100% perfect but I think it looks good for a first attempt at this type of thing)
Rate My pics In the EXD Gallery
Car Shows:
(07/30/06) - Fifth (of 5) - Endless Dreamz Car Show (Hyundai All)
Compiled Mod List:
OEM Options
:
-Moonlite Blue GLS Trim
-Automatic Transmission
-Cruise Control
-Teflon Clear Coat
-Mud Guards
-Floor Mats
-Car Alarm
$15400 (w/interest & tax)
Audio
:
-Alpine CDA-9805 Headunit (50 x 4)
-2 x 6.5" Infinity Reference 6012 si (50RMS)
-2 x 6x9 Infinity Reference 960 3i (100RMS)
-Dynomat Around Speaker Adapters
-JBL Grand Touring Series 75.4 II Amplifer (104RMS x 4)
-JL Audio 500/1 Amplifer (500RMS x 1)
-JL Audio 12" W6 SubWoofer with Ported Box (500RMS)
-RoadRage Capacitor (1 Farad)
-Audiobahn Power Fuse/Distributor
-4Gauge Power/Grounds
$2500
Wheels
:
-Black Spray Painted Calipers/Drums
Summer:
-15x7 Flat Black Rota Slipstreams 4x114.3mm 40mm offset (13lbs)
-205/55/15 88V BFGoodrich G-Force Sports (20lbs)
-Muteki Black Tuner Lugs
-Chrome Valve Stems
-Hub Centric Rings 67.1mm-73mm
Winter:
-15x5.5 OEM Steelies with Hub Covers (19lbs)
-195/60/15 88H Michelin Energy MXV4 Plus (21lbs)
$900
Suspension
:
-Tiburon OEM GT Rear Sway Bar 18mm (yellow dot)
-Tiburon OEM Metal Endlinks
-Tiburon OEM Rubber Bushings
-MUSSA Motor Impact Front Strut Bar (Type-B)
-MUSSA Motor Impact Rear Strut Bar
-Elantra Eibach Prokit Springs (1") 4218.140
-Elantra Kyb GR-2 Struts Front:333205-333206 Rear: 333500-333501
-OEM Lock Nuts (12mm & 1.25pitch) (Fits Kyb Struts)
$750
Exterior:
-Tints (35%) All Around
-ARKSpeedRacing Black Billet Antenna
-05xd's KDM Clear Sidemarkers w/ Clear Bulbs
-Morgasm69you's Nightshade Tinted Headlights w/ Silverstar Brightwhite Bulbs
-PIAA Xtreme White Bulb 1156 Rear Side Markers
-Bosch Icon Front Wipers (420A Driver, 418A Passenger)
-Kia Front Lip Spoiler (86571 2F000 Driver, 86572 2F000 Passenger)
$385
Total Spent: $19935!
Mods Next on my List:
OEM GT Grill (Current: GLS Grill)
HID's (Current: Silverstars)
Optima Yellow or Red Top Battery
Ultimate Future Mods:
BFGoodrich G-Force Sport 225/50/15 V 112.5mm sidewall 23lbs
(07/06) Discounttire: 328shipped
Tib Brakes with Steel Brake Lines
Rear Disc Brakes (Current: Drums)
R34 Bodykit
Alpine Stage 1 Turbo
(225whp) with Custom Exhaust
C/F Hood (oem style)
Coilovers (Current: Eibach/Kyb)
24mm Elantra GT Front Sway Bar (Current: GLS 23mm)
22mm Rear Sway Bar (Current: Tib 18mm)
Ultimate Goal: