Few things I need to get rid of...they're just taking up space in the new place.
Compact Divisions Fiberglass Triple Gauge Pod - NEVER INSTALLED! (LINK to G/B)
List Price : $90 • Sale Price : $70
Sony Xplod MEX-G1P Gigapanel Headunit - Store up to 1GB of music in the faceplate! Lights up BLUE - Comes with pre-wired Elantra Harness
I paid : $150 • Sale Price : $75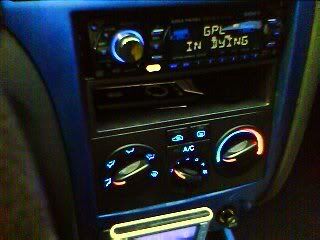 IMPORTANT! PLEASE READ BEFORE POSTING!​
All of these prices include shipping!
Dibs is in order, but you MUST call dibs in this thread, for all to see, or it DOES NOT COUNT. I will ship within one day of cleared payment, with tracking number, or you have my word you will get every cent back.
The projectors are caked with silicon bead..whoever did this retrofit should be shot. Worst job I've ever seen. However, it's only visible from the back..which won't be a problem once they're retrofitted into a headlight housing.
The stereo does NOT come with a remote. I'm sorry, I can't find it anywhere..I must have left it in the Elantra when I traded it in.
Any questions can be posted up in this thread or PM'd to me, but I repeat, ONLY DIBS CALLED IN THIS THREAD WILL COUNT! (No editing posts, either
)
Pete...only call dibs if you actually plan to buy it! :abovelol:
Thanks guys!