·
7 psi tunned by poweraxel

Things you will need.
A can of VHT Nite-Shades
A can of Clear coat (I used rust-oleum Gloss crystal clear)
A can of black paint (I used Krylon Fusion for plastics)
A flat head screw driver
A Philips screw driver
10mm socket with long extension and 3/8 ratchet. (To remove headlights)
2000 girt sand paper
Some RTV silicone sealant (optional) but recommended
Your oven empty and ready to accept your headlights one at a time.
Keep in mind that this project will take up the whole day and you should start this early in the morning if you plan to do this in 1 day
1. You first start by removing the headlights out of your vehicle, on my xd1 I used a 10mm socket with a long extension and a 3/8 ratchet.
2. Remove all bulbs from headlights, high beams, low beams, and turn signals.
3. Next, you want to preheat your oven at around 305-310 degrees Fahrenheit
4. Stick 1 headlight in the oven at a time for around 6-7 min, which should be enough time to melt the glue from the lens.
5. Using a flat head screw driver start on one side by gently lifting up on the clips and separating the glass cover away from the headlight, the entire headlight will be hot so you might want to use some cloth gloves so you don't get hurt. The glue on the headlight should have been really nice and hot and the glass cover should have separated away without much force.
6. On the XD1 you want to remove the small Phillips screws that are holding down the Bezel and corner covers and then just pop them out of the glass covers.
7. If your glass covers are really yellowish you might want to take this chance to wet sand them down with 2000 girt sand paper and then waxing them afterwards to restore them like new. (Optional) if not skip this step.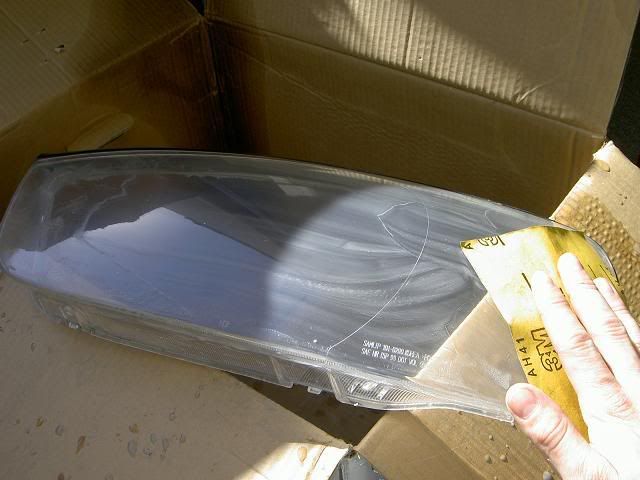 8. Using the 2000 girt sand paper lightly wet sand down you headlight bezel to remove any dirt and oil so that the paint will stick to it.
9. In your own work area, start by spraying light cotes of black paint on the Bezel and giving them about a min or two in between cotes to dry and ensure a perfect finish.
Before and After
You can choose to clear coat them after they dry to give them that mirror gloss black finish or leave them as is after they dry. (I did not clear coat mine)
10. Next, make sure you clean your corner light covers very well, or the nite shades paint could crack.
( I wet sanded mine a bit, then dried) spray light coats on the covers and let them dry in between coats for about 2-3 min, then repeat same step until you reach you desired darkness.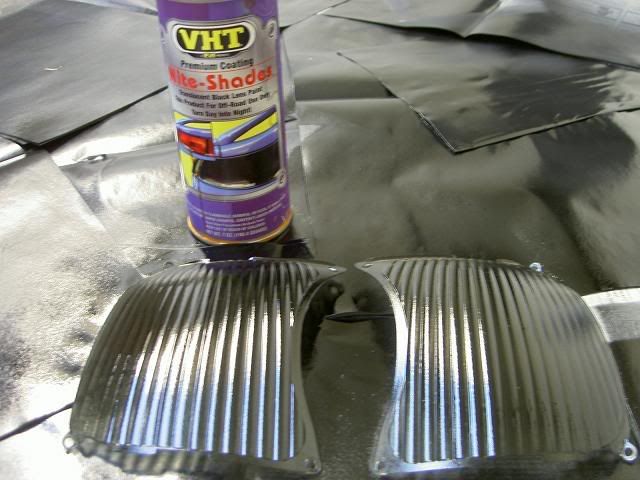 11. In this part you need to let the corner covers dry for about 4-6 hrs (I cheated and used a blow hair dryer to speed up the process.
12. After the corner covers have fully dried, wet sand them with 2000 girt sand paper again to make them nice and smooth.
13. Now apply clear coat to the corner covers until you see them become nice and glossy. Then let them dry again and you will have beautiful black turn signal covers.
On XD2 the turn signal covers are yellow, the choices you have here is either take out the yellow covers and just paint the bezel black or lightly sand down the chrome out of the headlight turn signal and paint the inside black or try to nite-shade the yellow covers black. on the 07 Hd elantra you can buy the black headlights or mod them yourself.
14.
15. Once you are done painting and everything is dry, start by asembleling everything back togherter except for the bulbs and Stick your head lights back in the oven and heat them up another 6-7 min so that the glue will become soft again.
16. Press hard on the glass covers and headlight assembly so that the lens and headlight will stick together again and leave a good seal. If you want, you can also use some sealant to ensure a water proof seal. I would recomend this. (I did not use it; the lights got rained on all week and have had no water leaks.)
THE FINISHED PRODUCT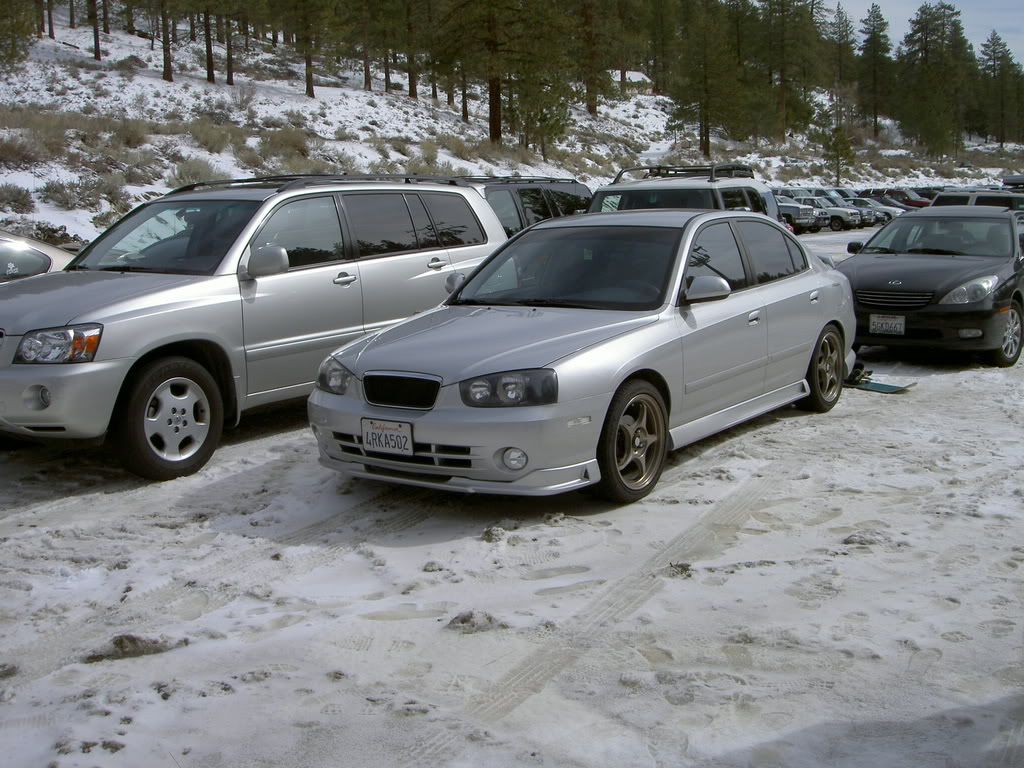 Lights off
Park Lights on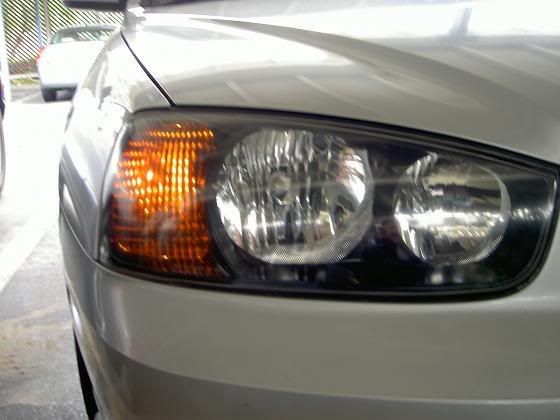 Turn Signals on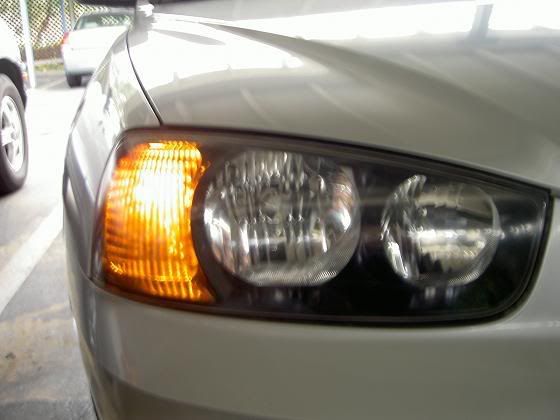 Other tips:
another thing that could be done on the XD1 is leavig the turn signal cover completly out and painting the chrome parts black as seen in this picture. The light would shine alot better but you will also have a small section where the light of the low beam shines trough so you will need to cover that somehow.
OTHER elantras with black headlights