Ok everyone, I have been in contact with a US distributor for k-sport coilovers in the U.S.A. for a few months now. I can get as many of these sets as people need with shipping taking no more than 5-7 days (not including holidays) to ship from the warehouse to your door once payment has been received and cleared from the bank. There will be NO minimum to buy to get this pricing. I repeat NO MINIMUM!!!! to buy. I have these coilover systems available for the following vehicles. 1996-2000 Elantra spec coilover system (chy01-kp), 2001-2004 Elantra spec coilover systems (chy07-kp), 1997-2002 Tiburon spec coilovers (chy04-kp), 2003-2005 Tiburon spec coilovers (chy05-kp), 2000-2004 Accent spec coilovers (chy06-kp). These will come with front pillow ball/spherical bearing mounts (which will include fully adjustable camber plates), and the rear will also come with strut mounts (non adjustable mounts). Both the front and rear will also be slotted so there will be no need for additional camber bolts.
below is a description of the K-SPORT KONTROL PRO DAMPENER coilover system.
K-sport Kontrol Pro Fully Adjustable Coilover Kits provide the ultimate in suspension technology for your street or track car. 36 levels of dampening adjustment allow you to fine tune the ride to your handling and comfort needs. The dampening adjusts compression and rebound simultaneously for ease of adjustment. Pillow ball top mounts in the front and rear on some applications allow you to maintain vehicle manufacturer suspension geometry design. The pillow ball top mounts also allow you a more direct feel for solid driver response. Camber adjustability is included on pillow ball top mounts that allow it for the ability to adjust camber from the actual coilover, instead of a separate camber kit.
Most applications utilize an adjustable lower mount, which means you adjust height without losing suspension travel like some other coilover designs do. With the mounts and most pieces of the coilover being designed for 6061 billet aluminum the kit is lightweight, durable, and rust resistant. The steel shock body is electroplated with zinc to resist rust and the elements. The valving of each set is matched to the springs installed for unmatched ride quality and reliability.
The Ksport system uses a Monotube design in which the oil and gas are separated within the cylinder. When compared to twin tube designs the Monotube dissipates heat better, allows finer dampening adjustments, and requires more expensive design process. Aeration and cavatation are a lot less common in a Monotube design, which results in a better ride.
The Ksport Kontrol Pro Coilover kit has been designed with professional road racing in mind offering extremely high value and performance.
Key Features:
36-way adjustable dampening
Made from high quality 6061 Aluminum with T6 for increased hardness
Compression/Rebound adjustable
Adjustable spring perch for height adjustment
Adjustable body allowing maximum suspension travel
Pillow Ball Top Mount w/ adjustable camber (not available for some models)
Monotube High Pressure Design reduces oil leakage
Electroplated body for protection from corrosion and rust
Incl. Front Top camber plate Mount, Rear Top Mount.
Spring Rates: Front 7/392, Rear 5/280
pricing is as followed:
for each set, no matter what Hyundai application you need them for, they will be $1035.00. this price INCLUDES SHIPPING!! IN THE CONTINENTAL U.S.A. Shipping to Canada can be arranged for a small nominal fee (usually around 25.00 extra due to customs fees and such). shipping outside U.S.A. and Canada can also be arranged for an extra charge. if you would like shipping insurance as well as tracking numbers, please add $10.00 to cover the cost for both.
here are a few pics of the coilovers as well as the front and rear camber plates.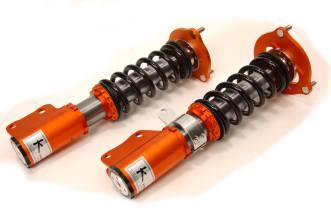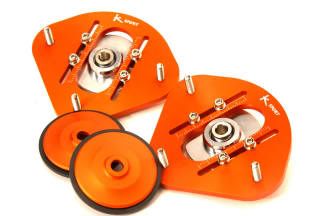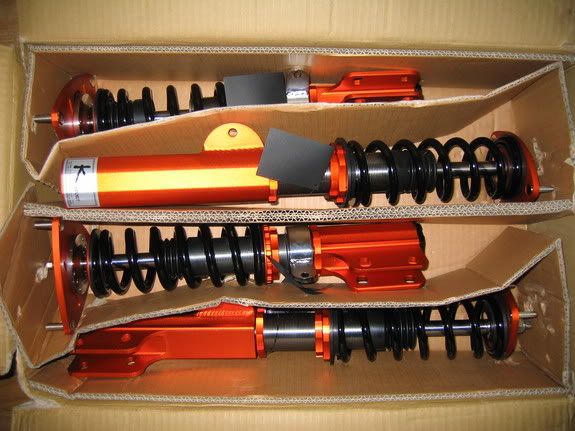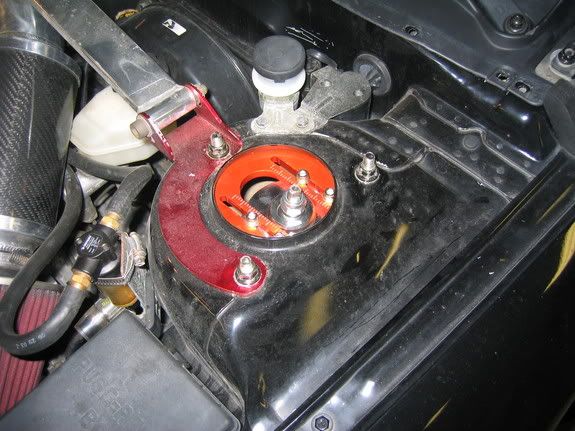 thanks scott (oiml8/xdgt03) for the pics
please post up any questions you have about the coilovers, shipping, or anything in general. I will be happy to answer any and all questions. this sale will be available all the time, no time limits, no minimum to buy.
I will handle everything from ordering to shipping directly to the address of your choice.