Springs, coilovers, struts, swaybars (REAR ONLY), strut bars and metal-end links from 97-01 Tiburons or Elantras WILL fit the XDs
First things first:
The infamous 2003 tiburon gt rear sway bar!
From the factory most elantras have a 14mm rear sway bar. Now this is fine for those who don't wish to push their car very much but for those looking for a very noticeable difference in handling for a pretty cheap price this is for you! The tib sway bar comes in 19.2mm size. The purpose of installing a larger sway bar is to keep your back end tighter and stick better. You may reuse the plastic endlinks if you wish but its recommended that you purchase the metal ones. Part numbers provided below.
This is a simple do it yourself project.
sway bar = 55511-2C000 (list $86.47)
bushing = 55513-2C110 (list. $10.59 ea)
endlink = 55530-29500 (list $29.94)
Another option that recently came up for sway bars offered by
sharkracing
No one has purchased these yet but they do the same job as the tiburon bar. Quote from SR regarding them: These are high quality OEM stabilizer bars that have been heat-treated and have also undergone an additional proprietary process that increases the peak load by 30% and peak stress levels by 50% over OEM levels.
SR sway bars (front and rear):$430 for both
Along with the sway bars polyurethane bushing may be purchased. Quote regarding them:Replace your worn OEM rubber bushings with these polyurethane bushings, and instantly change the way your car drives. These bushings will vastly increase vehicle stability and control, while giving you much better longevity compared to OEM bushings.
Polyurethane Bushings: (kspec and SR) $250
Next:
Strut bars
. A strut bar works by connecting the tops of the strut towers in the front and rear of the car. It "transfers" body roll from one side to the other when turning keeping the steering where you want it to go. The result is steering feels tighter in the front of the car. There are several strut bars that you can purchase. The ones for the GK will work on the elantra.
Rear Hatchback Strut bar install
4 door strut bar install
Theres the
RRM strut bar
:
Sharkracing Strut bar: $85 for just the front and $145 for front and rear
:
Evofusion: $55 plus shipping
:
Mussa
:
OEM tuscani strut bar
:
Lowering the car
: The purpose of lowering the car is to give it a lower center of gravity and help it handle better. The springs the car comes with from the factory are not very stiff so installing stiffer springs helps you to handle better. As an added bonus the lower center of gravity helps you when braking because you won't nose dive as badly. You have two choices for lowering: springs or coilovers. Springs are a one time thing. Once installed your car always sits lowered unless you switch them back to stock. Coilovers are adjustable so that you can increase the stiffness of the ride and your ride height whenever you so chose. Coilovers are much more money because of that adjustablity. When lowering the car you might also chose to replace your struts. OEM tib gt struts are much stiffer than the oem elantras and help with rebound. Now for some pics of people sporting various springs.
Spring install DIY
. Would Probably cost $300-$400 if done at a shop.
Springtechs (can be had on ebay): $100 + shipping
A quick Note about the springtechs: they are designed for the J2 platform so that back springs will be smaller than the perch they rest on. THIS IS NOT A PROBLEM!!! DO NOT START A THREAD ABOUT THIS! there are many members using these springs for long periods of time and they've yet to have problems.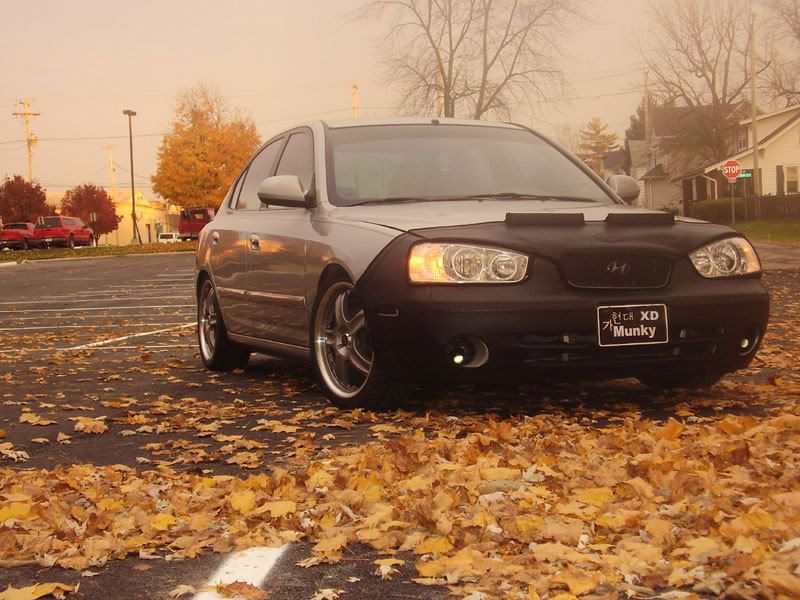 B&Gs (on various sites ex. evofusion): $205
Drop: 1.5" rear, 2.0" front
H&Rs: $284.05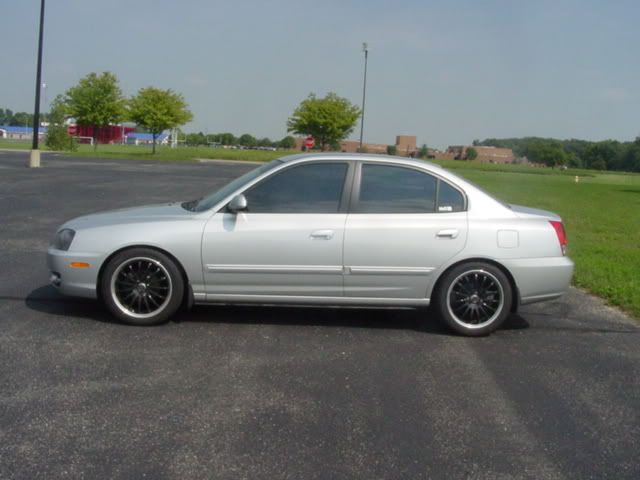 Drop: 1.3" front 1.4" rear
Eibachs:$269.13
Drop: 1.2"
Arospeeds(ebay and andysautosport.com): $176.18 (on andy's)
Drop: 3" (once settled)
B&G coilovers:$800
: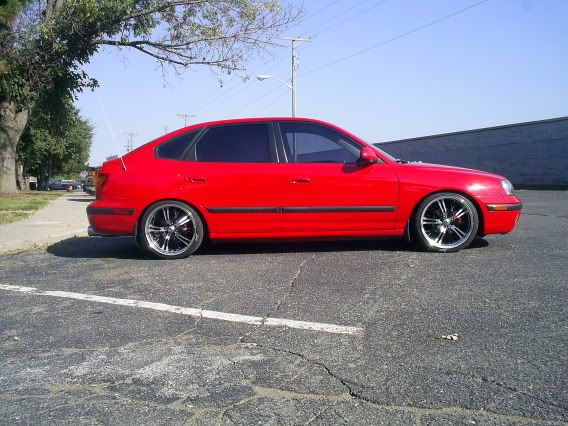 Tein Coilovers (designed for the tiburon): $1500
: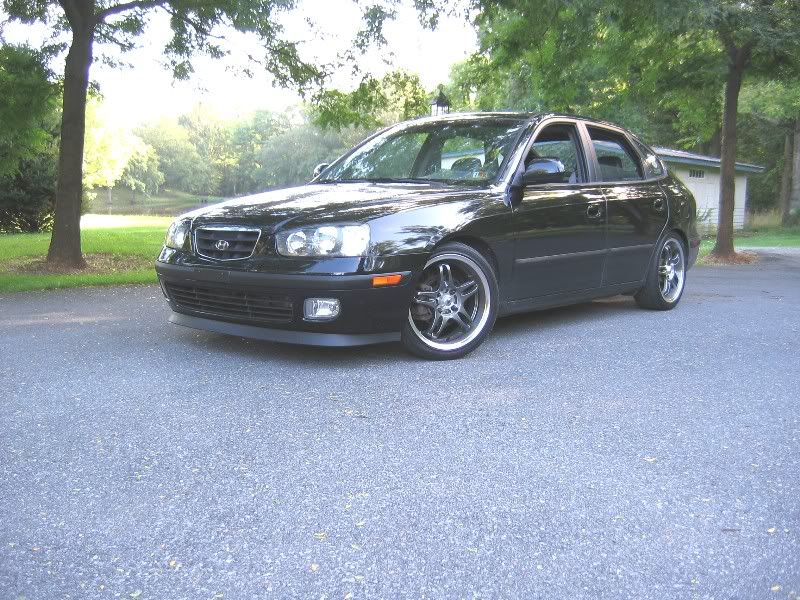 KW coilovers(designed for tib):$1572
Springs designed for the tiburon also work on the elantra. for instance
tein springs: $231.61
:
For information on the clearances you have with different springs: Be sure to check out this
thread
!
For a good read about suspensions:
Clicky!