Discussion Starter
•
#1
•
2loud2k2xd
My 2002 rally red elantra gt. all of the mods, paint work, and stereo installs were done with the help of a good friend and myself. i just hit 60k miles and have enjoyed all of them. ok, time to start listing all of my mods.
UNDER HOOD/ PERFORMANCE:
stock exhaust manifold with 2.25" ss pipe to a racing muffler (eliminating the 2nd cat and the resonator). dragon weaponR sri. custom made 6pc 4ga ground wire kit. painted spark plug wire cover (now removed). painted covers. 100 watt xenon blue headlights. 100 watt xenon blue foglights. ngk blue spark plug wires. bosch platinum spark plugs
EXTERIOR:
painted calipers. cross drilled rotors. kvr carbon fiber pads. 18" konig unknown wheels wrapped with 215/35/18 nitto neo gen. white painted letters on tires. red vinyl windshield banner. front bumper mesh insert. strobe lights in the headlight corners. strob lights in the reverse lights.
INTERIOR:
limo tint on all windows except windshield. carbon fiber pedals. painted interior (dash fascia, window switch trim all 4 doors, center console). painted srs airbag on steering wheel. painted srs airbag on passenger side. blue clock diy.
ICE:
pioneer premier 960mp deck. pioneer premier p8-dvd (indash, touch screen 6.5" screen and dvd player). kicker soloX 12" dvc sub. audiobahn 2300hct (high current) sub amp ran @ 1ohm for 2400 watts continuous. audiobahn component speakers (6). audiobahn 6401 amp. remote bass controller. 5.25cu' sub box (vented). optima 1125ca yellow top (for system only). 3 farad digital cap. 160 amp circuit breaker. 160 amp relay. about 20' of 0ga wire for power and ground wire. 100 sq yards of fatmat. digital distribution block.
bolofly2003
My car is a hyundai elantra 2002 gls silver. All that i have was installed by me. This is my list
EXTERIOR:
17" HP formula 8 wheels with 205/40/17 nankang tires, rear and front mudguards, wing for wipers, chrome door and trunk, front mask cover,windows vent visors.
INTERIOR:
tint on all windows, racing fiber pedals, chrome air conditioner spaces, door stills, custom leather seat covers, chrome door.
Showtime:
All clarion mobile including: in dash monitor, 5.1 digital processor, tv tuner, tv antennas, center speaker, amplified subwoofer and cd changer. also a clarion 4 channel amp.
vahyundai
2001 Hyundai Elantra GLS
Exterior: full R34 bodykit, 50% tint, 17" hyper black motegi ff5 rims, aluminum wing, blue painted calipers, 8000K hid headlights, avante xd racing badges
Interior: painted (dash blue, dash facia white, doors blue, window switches white), carbon fiber shift knob, blue seat covers, reverse glow guages
Engine: front strut bar, cold air intake, cat-back exhaust, painted engine cover and fuse box blue
I.C.E- sony headunit, MTX amp, 2 10" MTX subs, optima red top battery (just changed it), blue undercar neon kit
i am getting rid of the aluminum wing and putting the evo 5 wing on it. its sitting in my house waiting to get painted.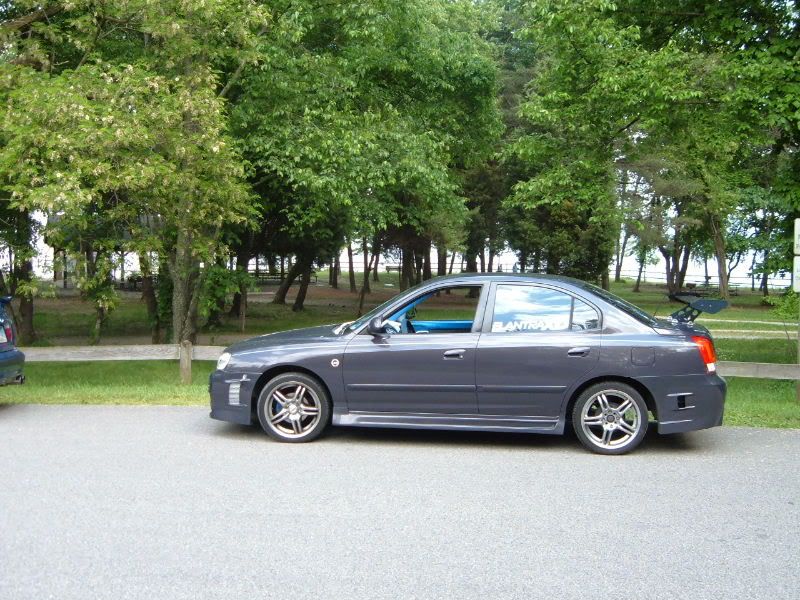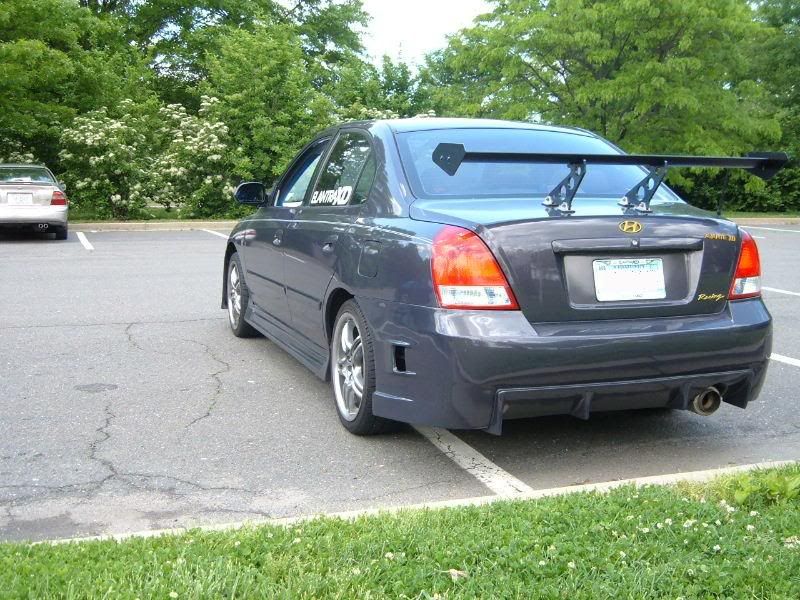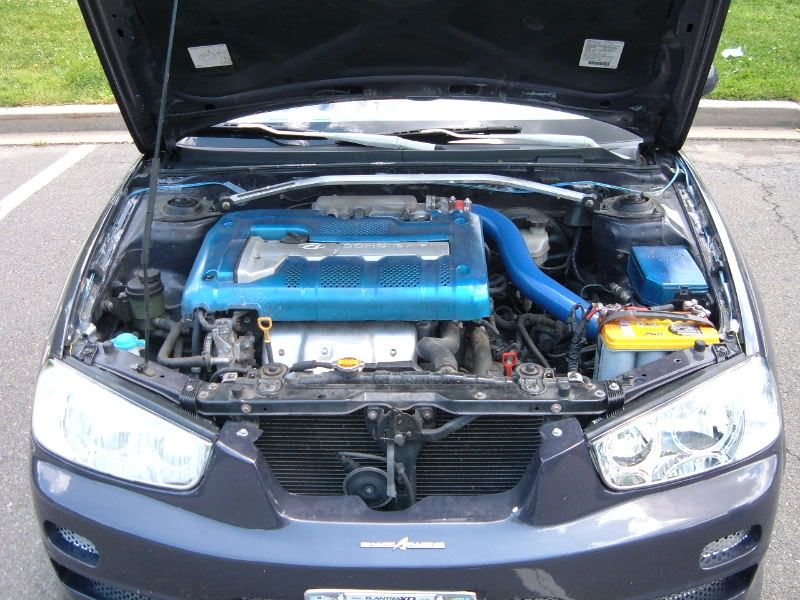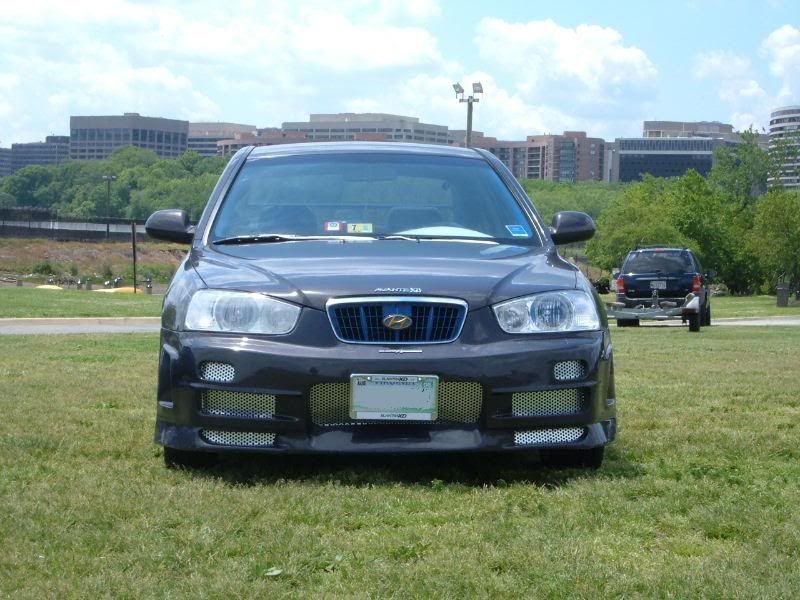 importdriver05
All I have done is:
exhaust which is an hks muffler
cold air intake
I know its stock, but hey i thought i would try since its a nice looking original with some minor mods.
Gun5
Appearance/Peformance
17" RSS KAMA's Hyper-Silver Wrapped in Kumho 215/40/17 Tires
De-badged
~ Audio Setup ~
|||Kenwood KDC-MPV6022 Head Unit||||
||||Alpine Type-S 6-1/2" & 6x9 Speakers |||||||
||Bazooka ELA500.1 Mono Amplifier||||
||||||2 x 12" Infinity Reference 1230w Subwoofers|||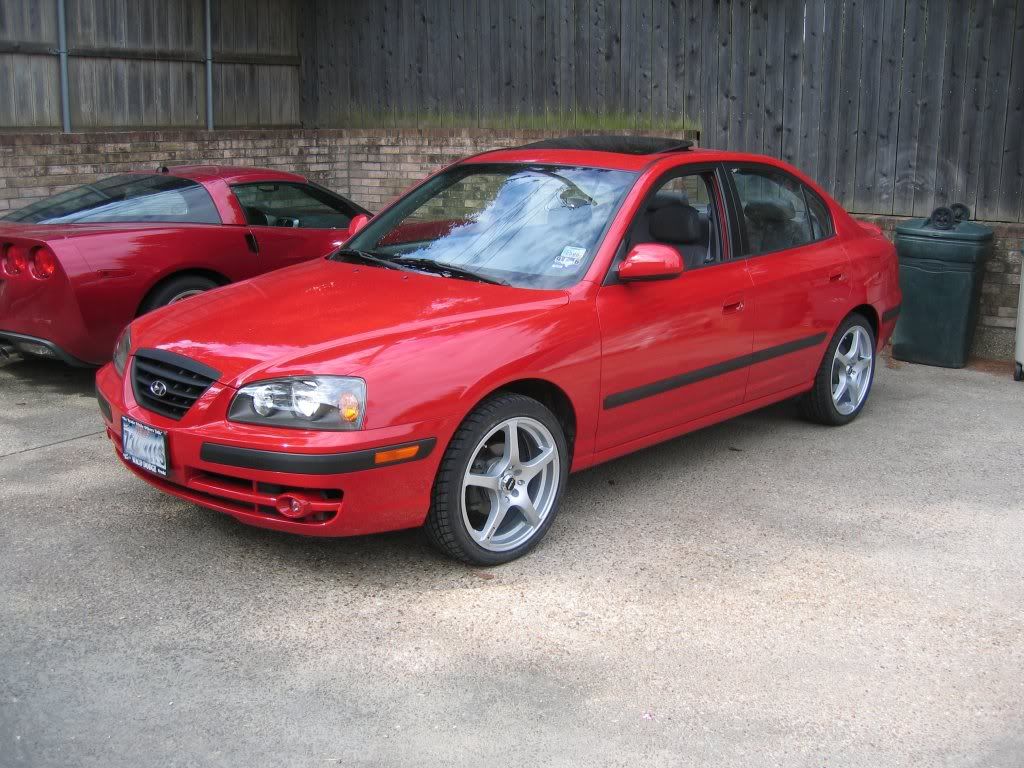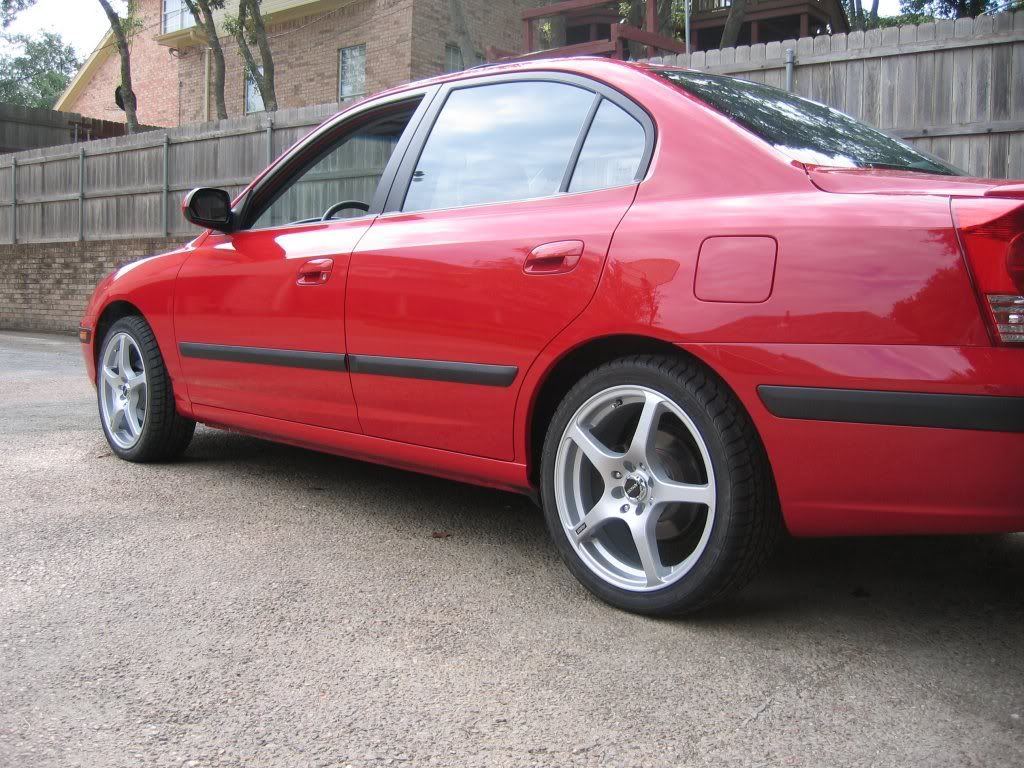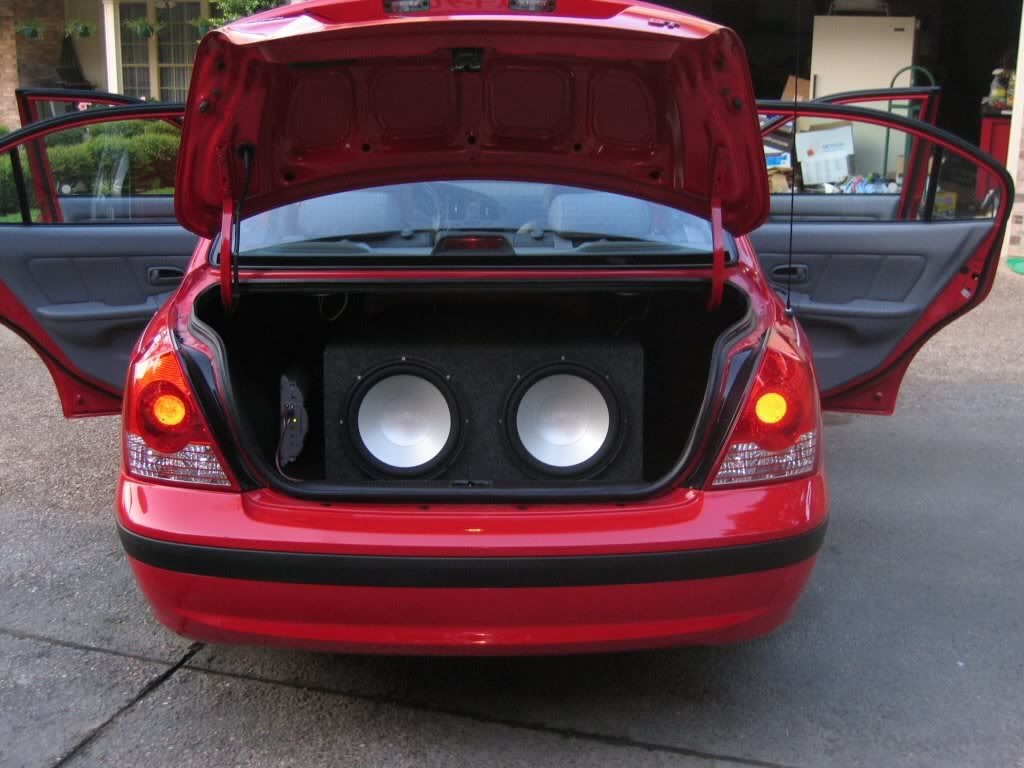 slow 2K2GT
Engine:
OBX heat wrapped header, CAI, UR crank pulley, bored IM and TB, Mega Cycle 272 cams, 2 1/4" exhaust with high flow cat, and some rice muffler, Kspec polyeurathane front engine mount.
Tranny:
XTD stage 3 clutch, Fidanza 7.5lb flywheel
Interior:
Black console, blue and black tweed on door panels and center console, Ractive seats, Momo steering wheel and shift knob, racing pedals.
Suspension:
B&G coilovers, Tib sway bar with steel endlinks.
Wheels and tires:
18" Momo X1 with 215/35 18 Nankang tires, full size spare also.
Ice and electronics:
Alpine head unit, Alpine Type X components up front, Alpine Type R components in the rear, Coustic Audio 2 Channel amp for front speakers, Alpine alarm, A'PEXi SAFC, A'PEXi turbo timer, Ignited push button start, Optima red top battery in trunk.