Discussion Starter
•
#1
•
Doohickie
The Red Rocket is a 2005 Elantra GLS 5-door. I have made several mods, trying to use as many Hyundai corporation parts as possible to keep the OEM feel. So for my rims, I got a set of Elantra GTs, the sway bar is from the Tibby, as are both the subwoofer and the amp that drives it. The strut bar is from the Kia Spectra. This car and all its parts, to the greatest extent, are Made in Korea. One unique mod is a storage tray I built the fits under the cargo area floor, keeping the cargo area clean while carrying around tools and such. Maybe I could have saved some of these mods and just bought an Elantra GT, but I didn't want the leather seats in the Texas heat.
CD changer & Tib amp:
A unique mod.... I built this tray under my trunk floor so I can carry tools and stuff and still have a clean trunk:
We all know the stock horn is wimpy, wimpy, wimpy. I added two notes from a Nissan in a salvage yard. It retains the nature of the original horn but is a lot louder and more assertive. And a coat of paint dresses them up a bit:
Another unique mod- my backlit grill. This pic also shows off my aftermarket fog lights mounted in the OEM slots and my latest mod- LED city lights:
And my latest mods (Nov. 16)- I cleared the front turn signals:
And just as I was finishing that up... ding-dong! My GonzoSport Removable Rear Strut Bar was delivered!
And Nov. 18- tried out some LED lights for the backlit grill:
Complete mod list:
Audio
. Pioneer DEH-P3700MP In-Dash CD/MP3/WMA/WAV Receiver
. Pioneer CDX-P686 6-Disc CD Changer
. Tiburon JBL Amplifier and Infinity Subwoofer
Electrical/Lighting
. 3-Note Horn
. Backlit Grill
. Under-hood Light
. Front Side Markers Blink with Turn Signals
. Disconnected the Chime
. Front and Rear Fog Lights controlled with XG Multifunction Switch
. Map Lights on with Dome Light
. LED City Lights
. Cleared Front Blinkers
Exterior
. Meshed Grill
. Window Tint (35 sides, 20 rear)
Interior
. OEM Floor Mats
. 04XDGT Stereo Mounting Adapter
. Leather Shift Boot
. Metal Tiburon Pedals with Dead Pedal
. Woodgrain Dash Kit
. GT Leather Steering Wheel (installed 13 Jun 07)
Miscellaneous
. Cargo Area Storage Under Floor
Suspension/Brakes
. Tiburon 19 mm Rear Sway Bar with Metal End Links
. Kia Spectra Front Strut Bar
. GonzoSport Removable Rear Strut Bar
. Painted Calipers
Wheels/Tires
. Elantra GT Wheels
. Kumho Ecsta AST 225/50R15 Tires
Keyan
2005 Hyundai Elantra GLS-
T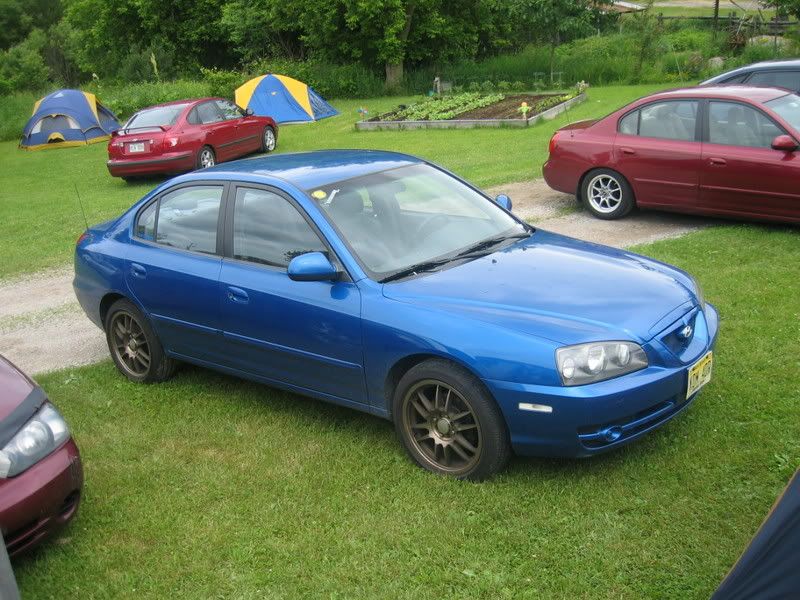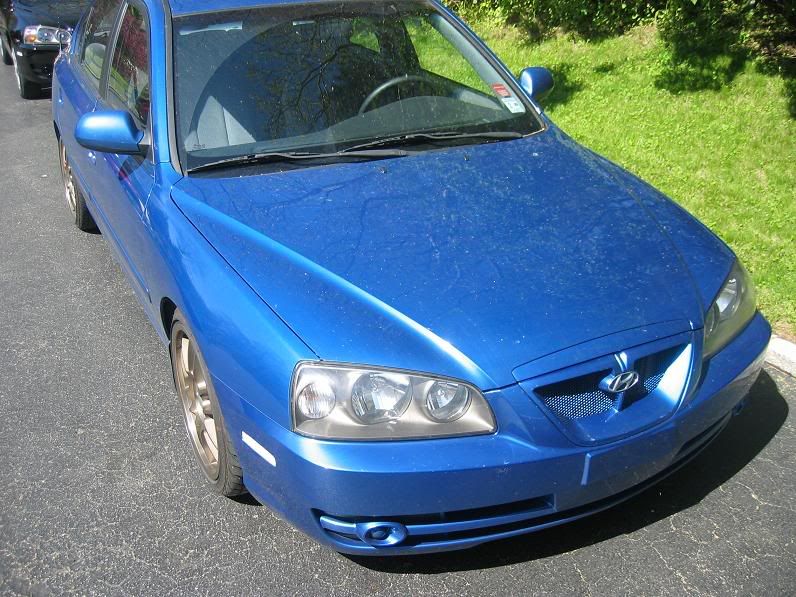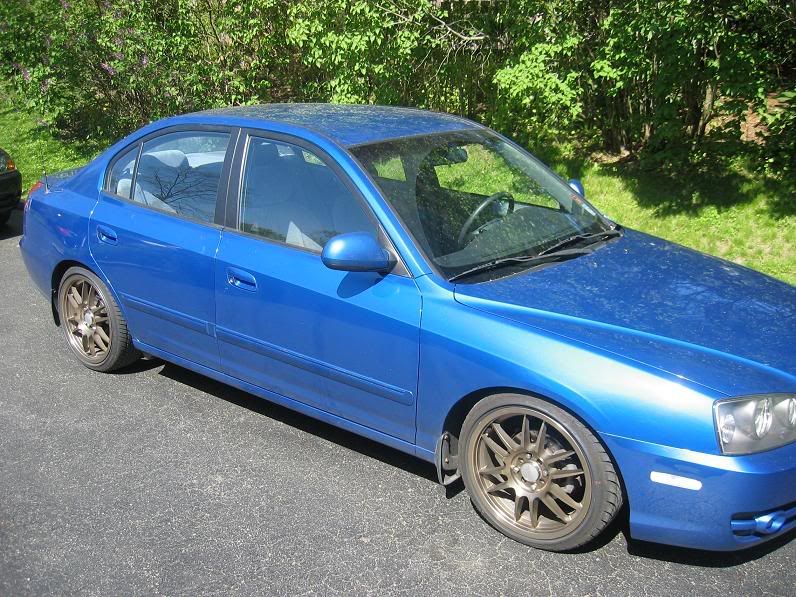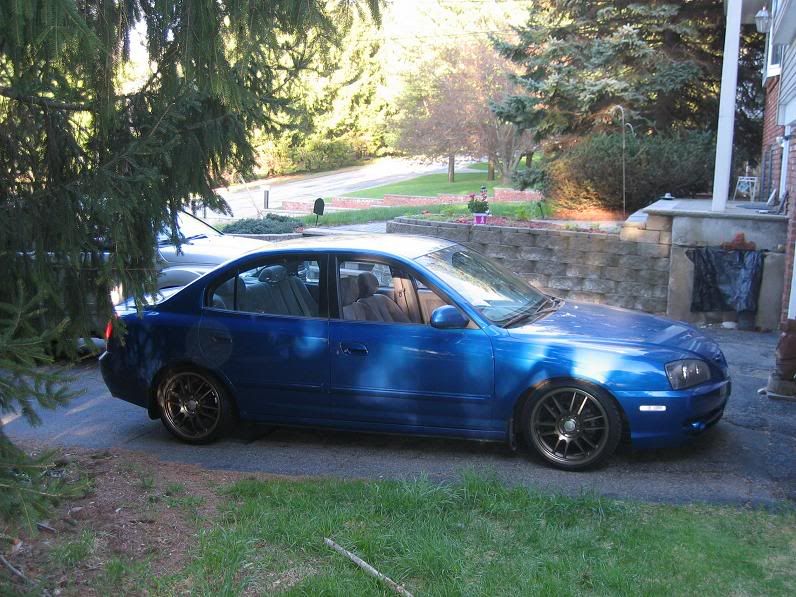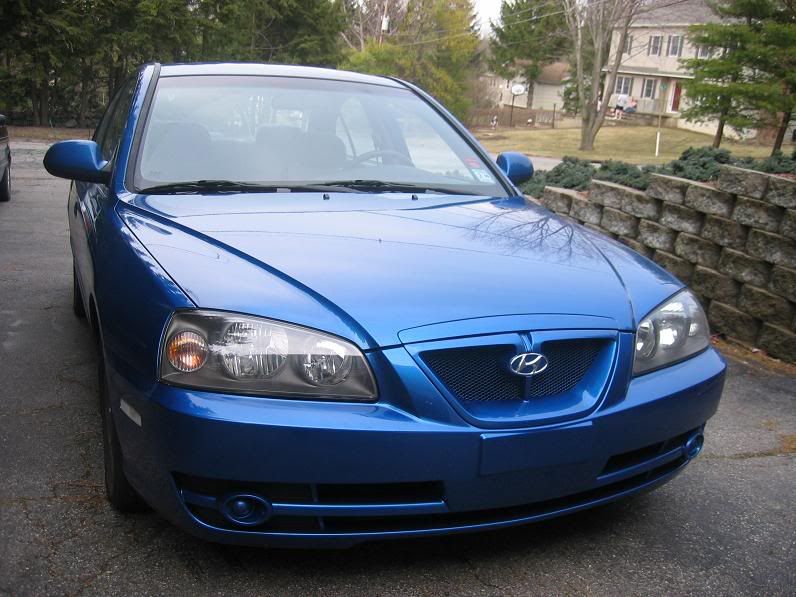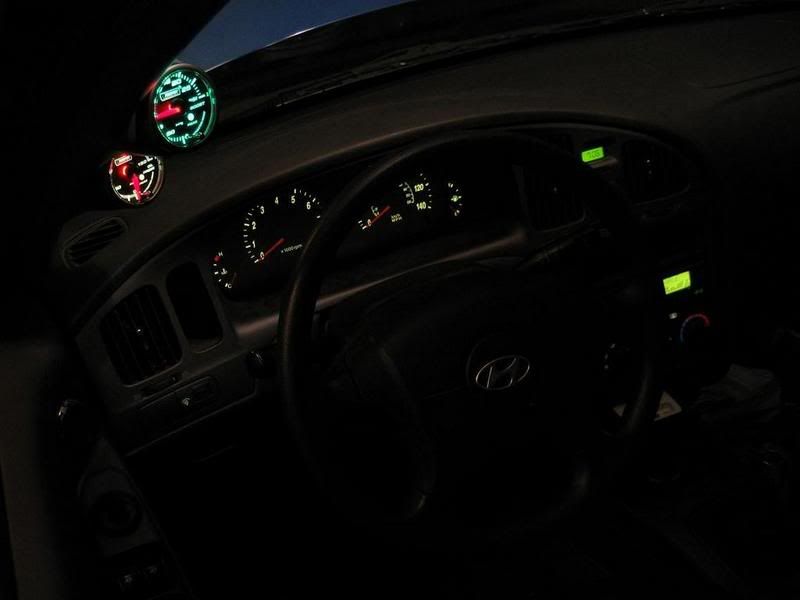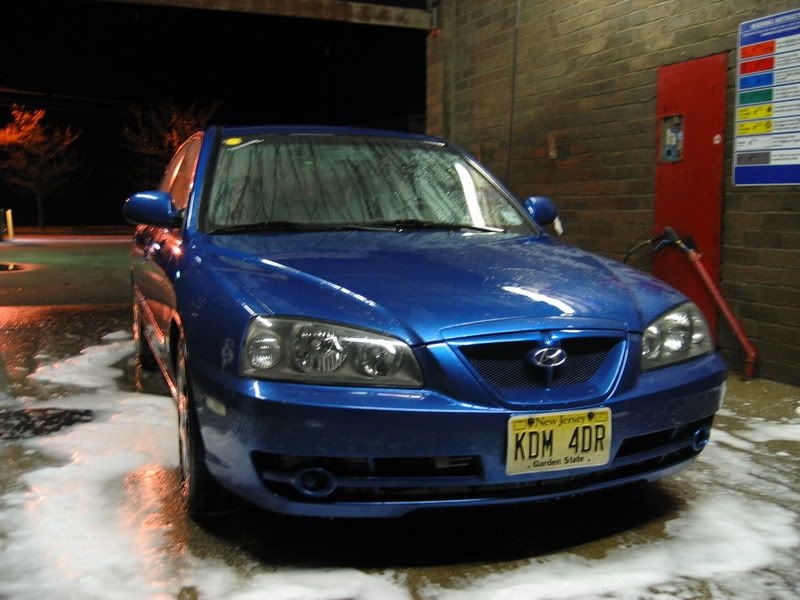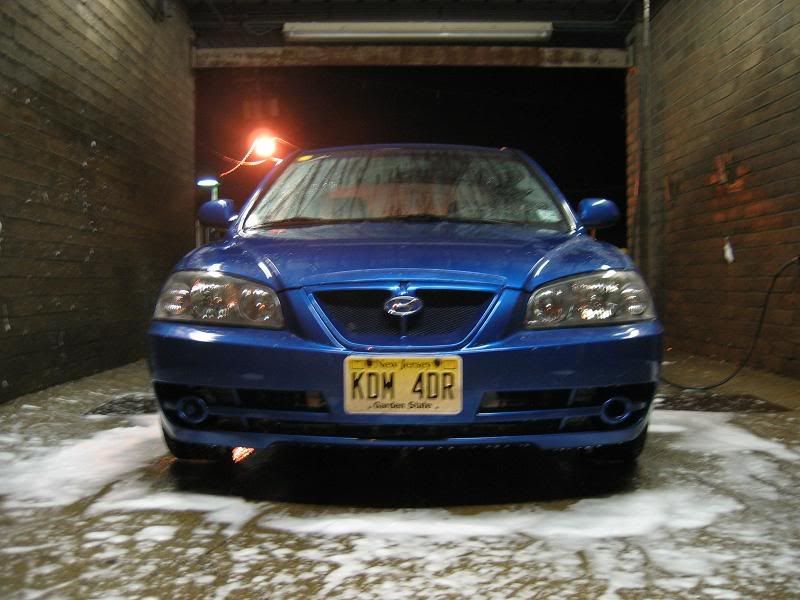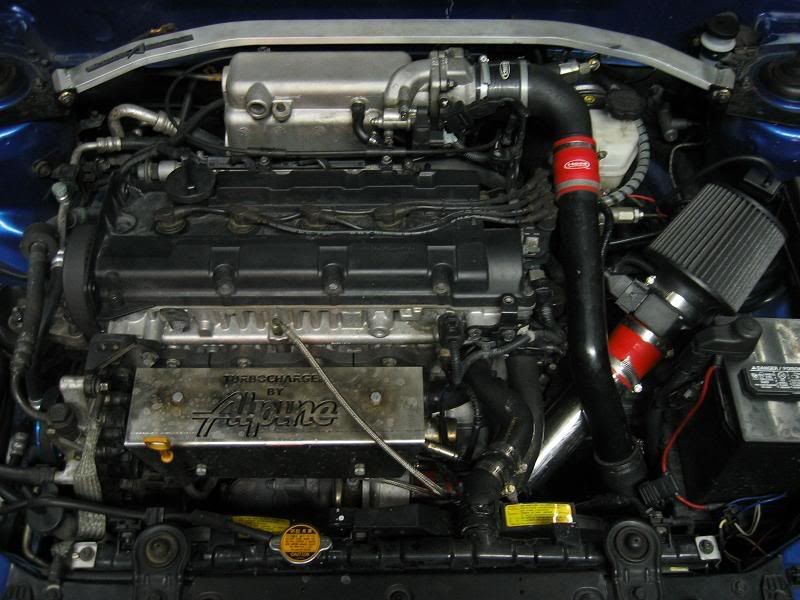 A video of it idling plus the effects of not having a BOV on the system
http://www.youtube.com/watch?v=S5YxJrISRnM
Mod list:
Exterior
KDM Clear Sidemarkers
KDM Clear Turnsignal Headlights
M&S Body colored grille
Custom Licence plate
GT Lower bumper trim
KDM CVVT Emblem
6000k HIDs
Scion tC Antenna
Suspension
17x7" RS Limited Elite Lightweight Rims in Bronze/Gold
215/45R17 Michelin HX Tires (currently on stock rims and winter tires for Winter '07-'08)
Tiburon KYB GR-2 Struts
Espelir Lowering Springs
16mm Rear Swaybar
SharkRacing Front Strut Bar
Mussa Rear Strut Bar
Tiburon Brake Upgrade (incl. bigger calipers powder coated mirror black, 11" rotors, and Hawk HPS Pads)
Interior
KDM Ticket Holder
KDM Chrome Tweeter Surrounds
System Upgrade Chrome Shift Knob
Prosport Premium Series Peak/Warn Gauges (Boost/Oil Pressure)
03 Tiburon Leather Seats
Integrated iPod Dock into Ash tray
04 GT Hyundai Kenwood Deck
Performance/Engine
5spd Transmission Swap
XTD Stg 3 Clutch
Fidanza Flywheel
TWM Short Throw Shifter
Alpine Developments Stage 1 Turbo Kit (Intercooled, Mitsu TD04 13g)
Ark Speed Racing Lightweight Underdrive Pulley Set (Crank, Waterpump, Power Steering)
Compact Divisions Intake Spacer
Throttle Body Coolant Bypass
System Upgrade Acceleration Pulley
System Upgrade Adjustable Cam Gear
BKR6ES-11 NGK Standard Plugs
KORE 2.5" Cat-Back Exhaust
The car started out as an automatic, and stock it dynoed in @ 103whp 104wtq.
Elantra87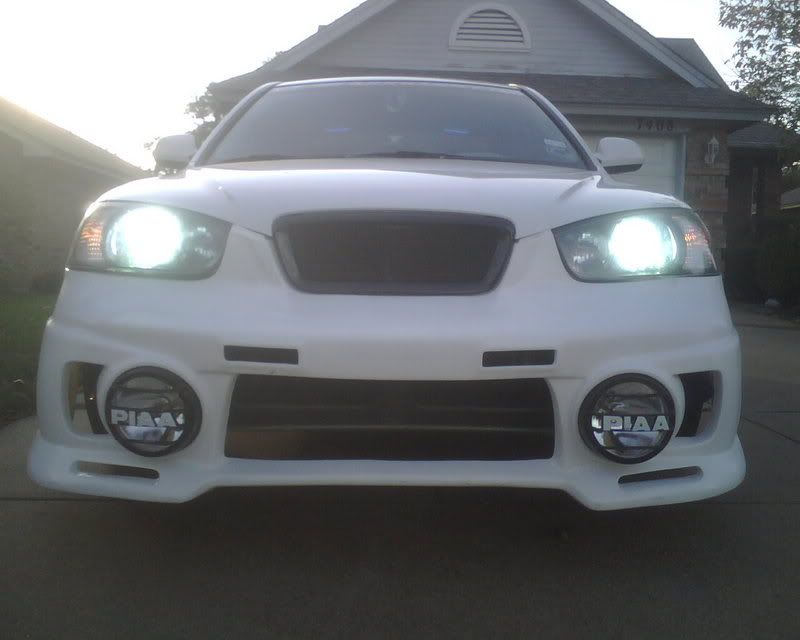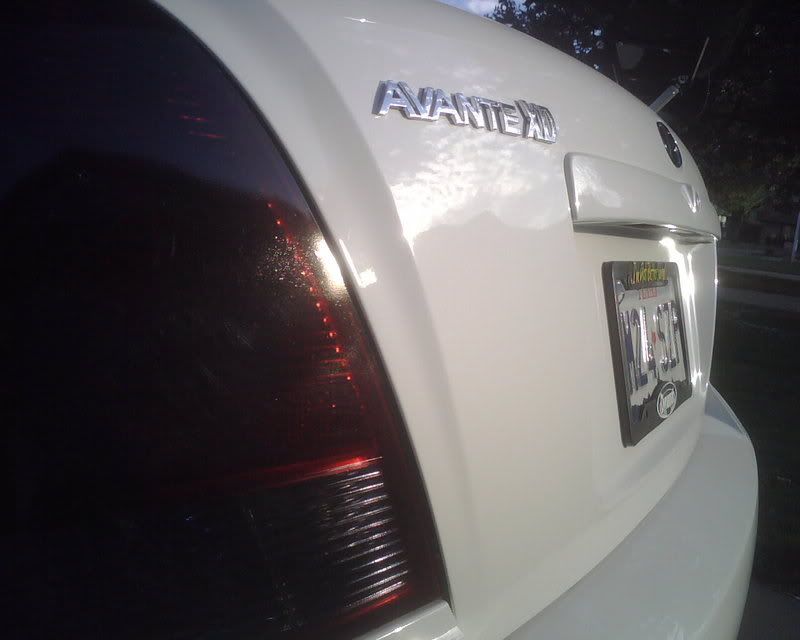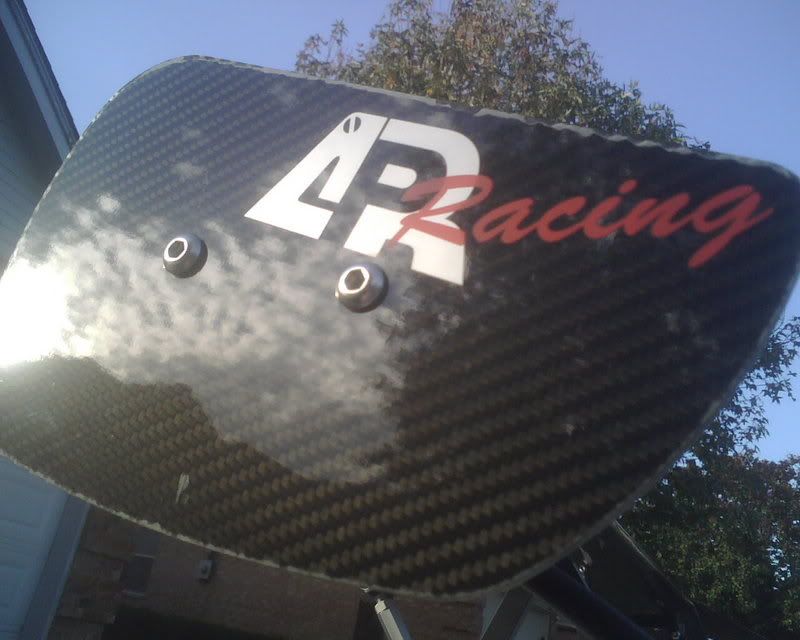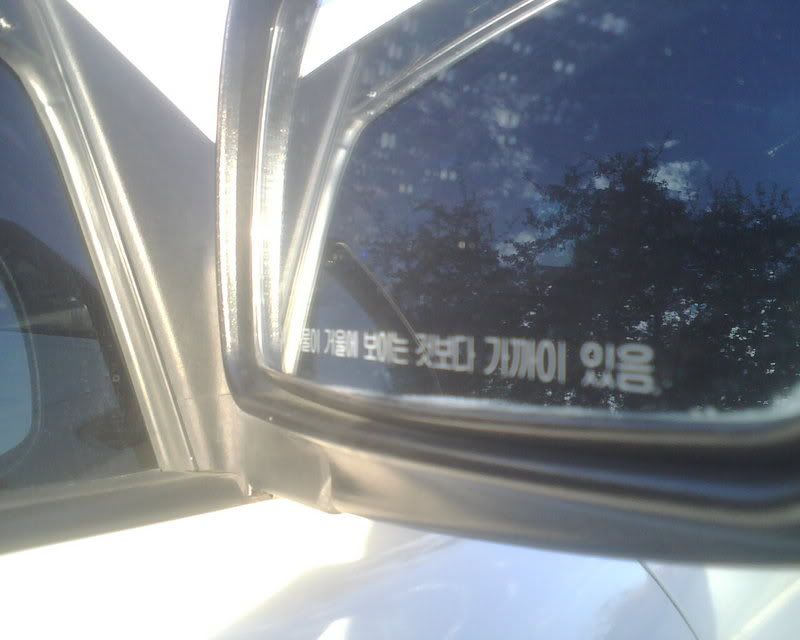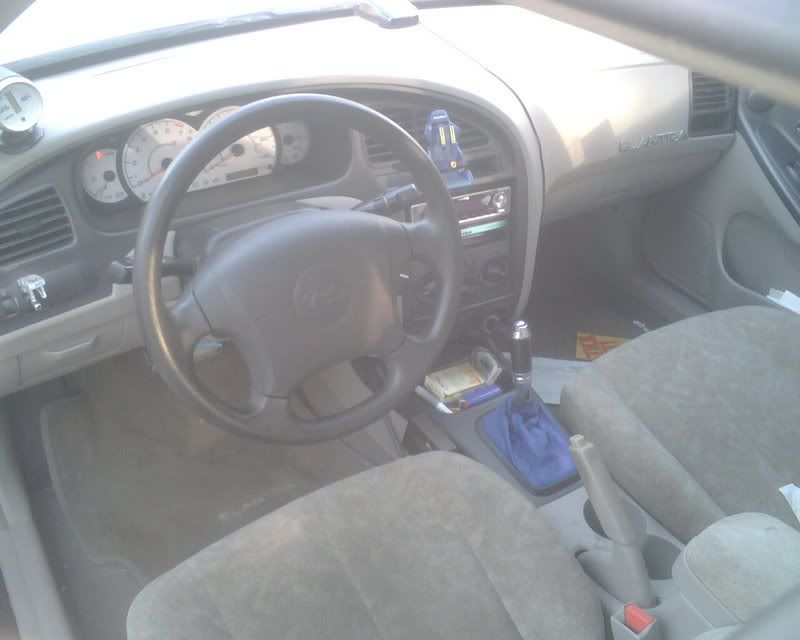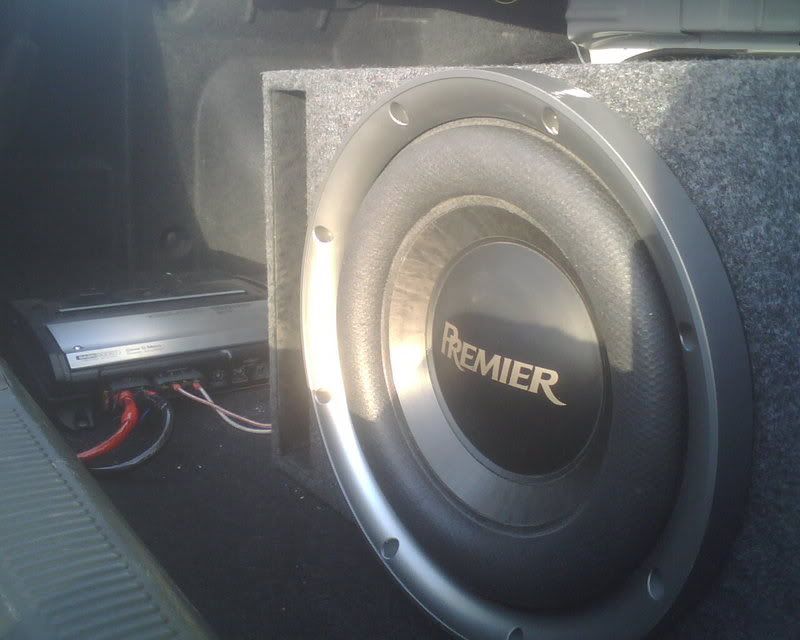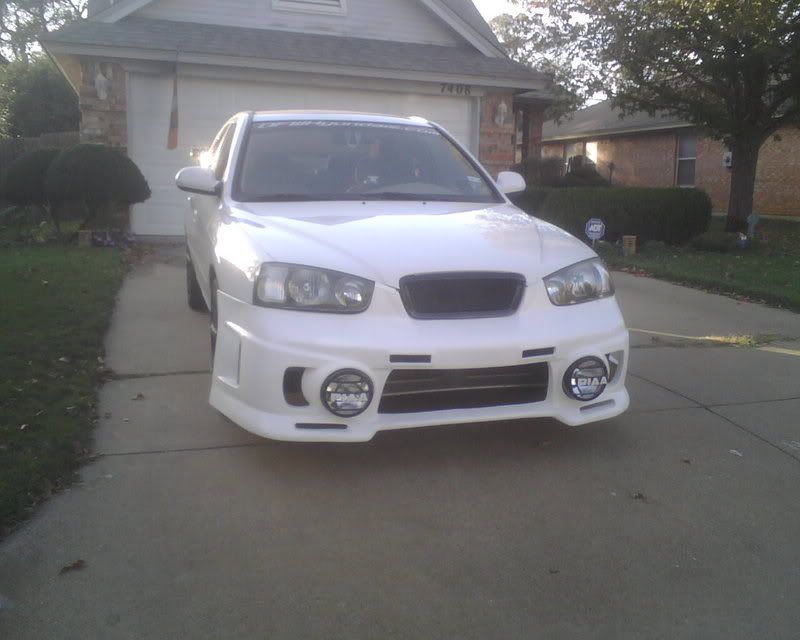 Mod List
Audio
-Pioneer Premier 12" 2000 Watt subwoofer
-Kenwood 1000 Watt mono class d amplifier
-Pioneer 5.25 and lightning audio 6x9's
-Lightning Audio 4 Gauge wiring kit
-Kenwood Headunit
Electrical/Lighting
-8000K HID's
-silverstar turn signal lights
-white LED trunk lights
-multicolor LED undercar kit
-blue Streetglow inside
-reverse glow gauges
Exterior
-EVO 3 body kit in progress
-APR carbon fiber spoiler
-17" black 7 spoke rims
-Yokohama 215/45R17 tires
-smoked tail lights
-Avante xd emblem
-Genius Grille
-PIAA foglights
-13 inch antenna
-Korean side mirrors
-painted calipers
Interior
-Glow Gauges
-air/fuel gauge
-blue streetglow
-blue shift boot w/carbon fiber shift knob
Performance
-Evo Fusion 4-2-1 header
-full 2.25" exhaust no cats
-CAI w/K&N filter
-Strut bar
-white radiator hoses
Munky
2002 Elantra GLS 5-Speed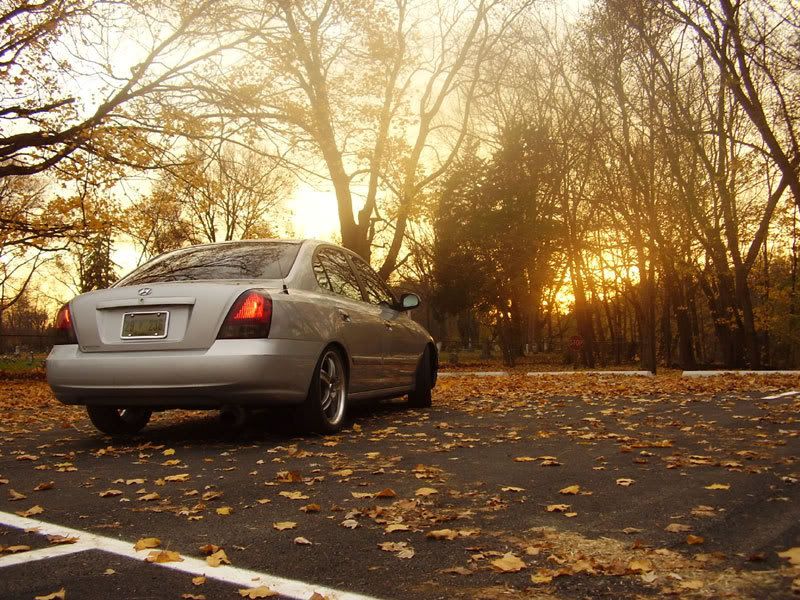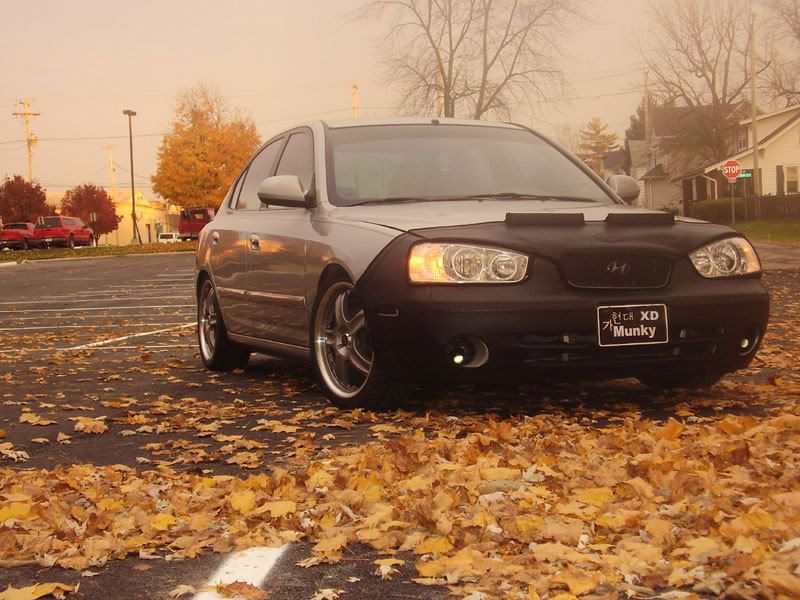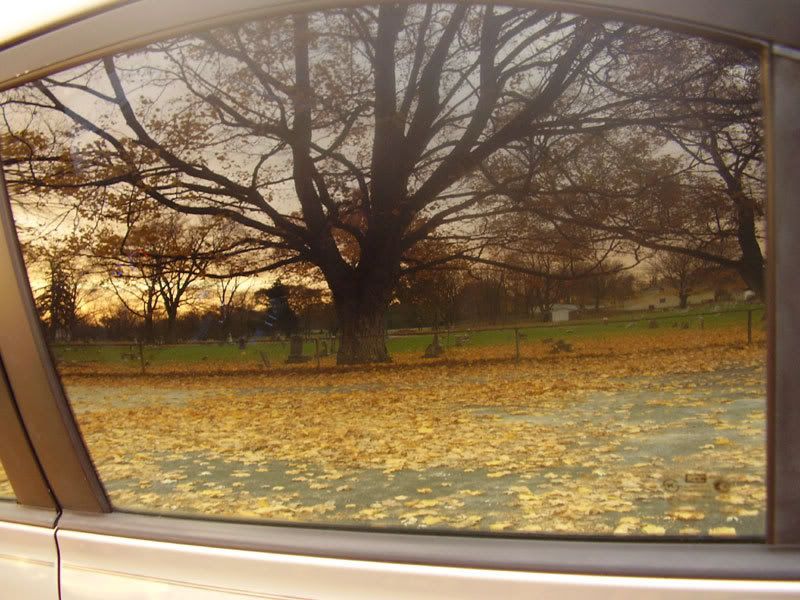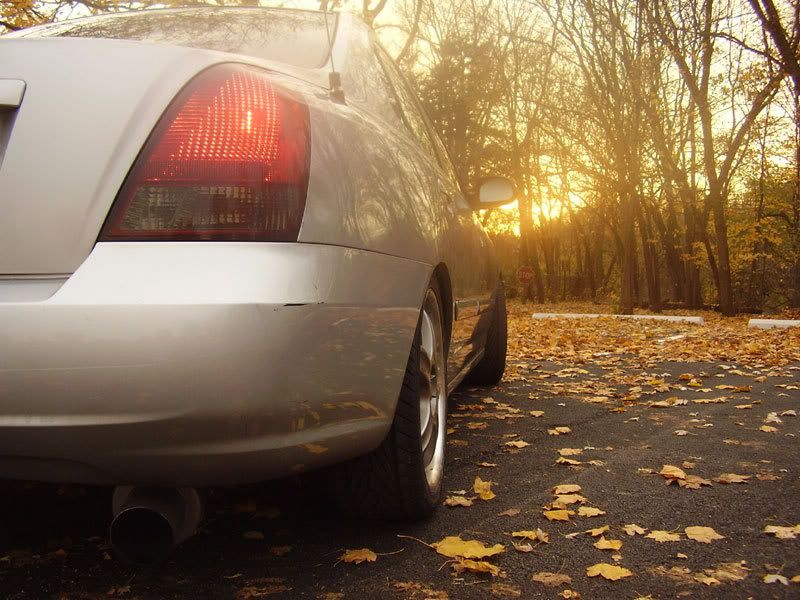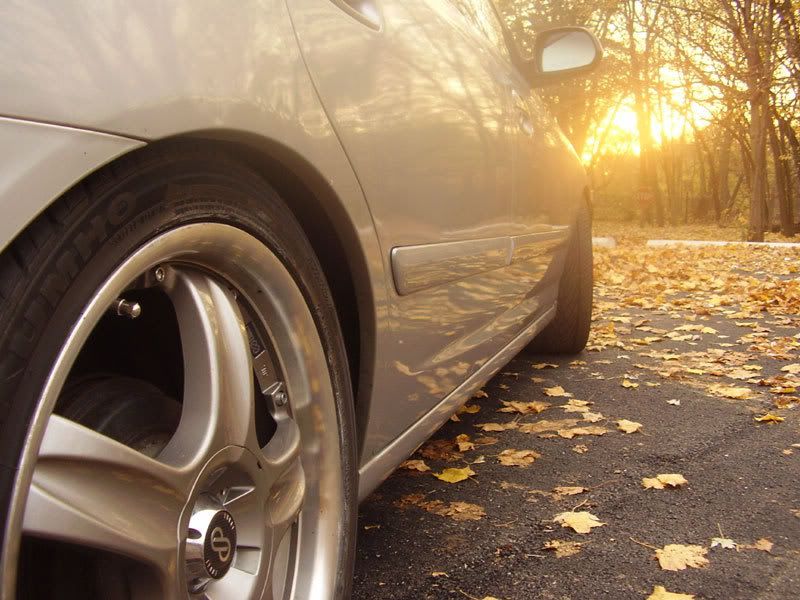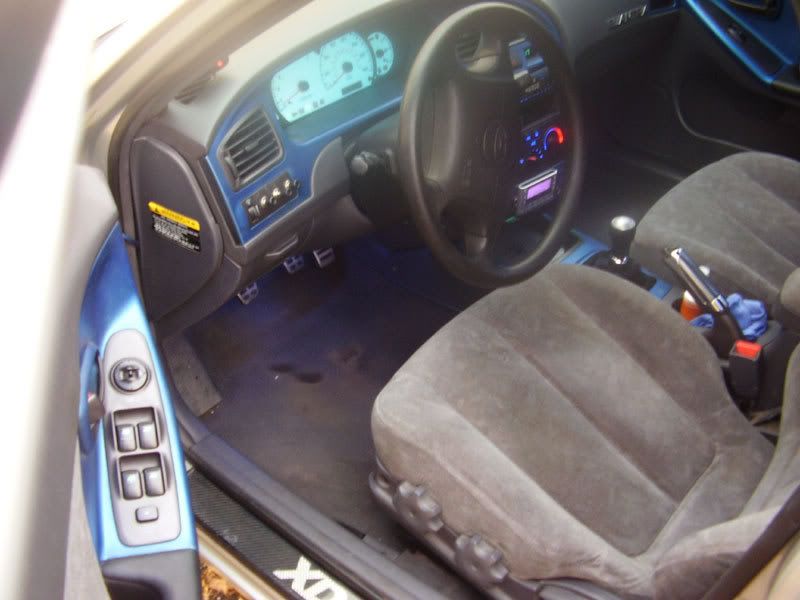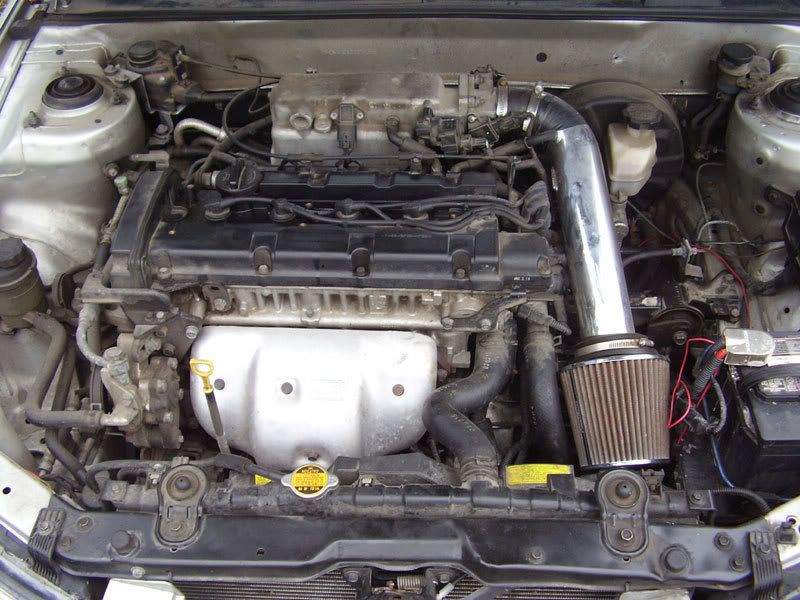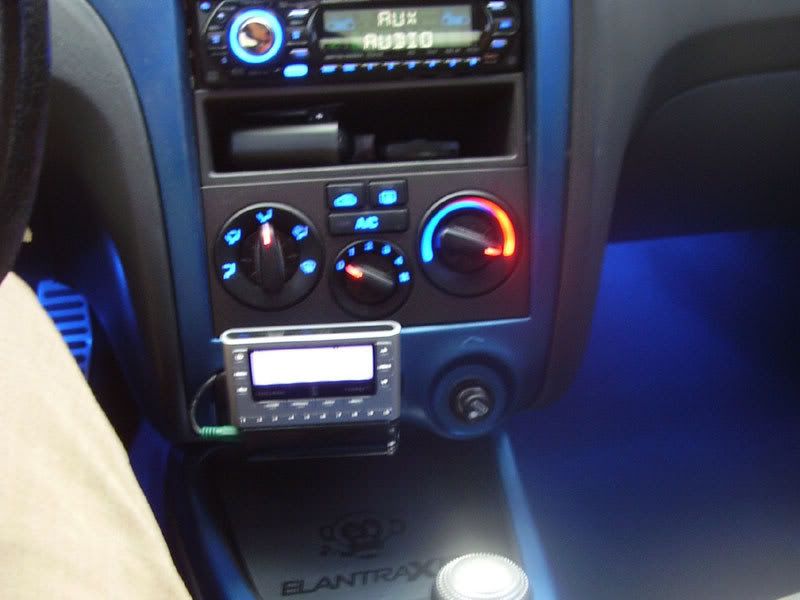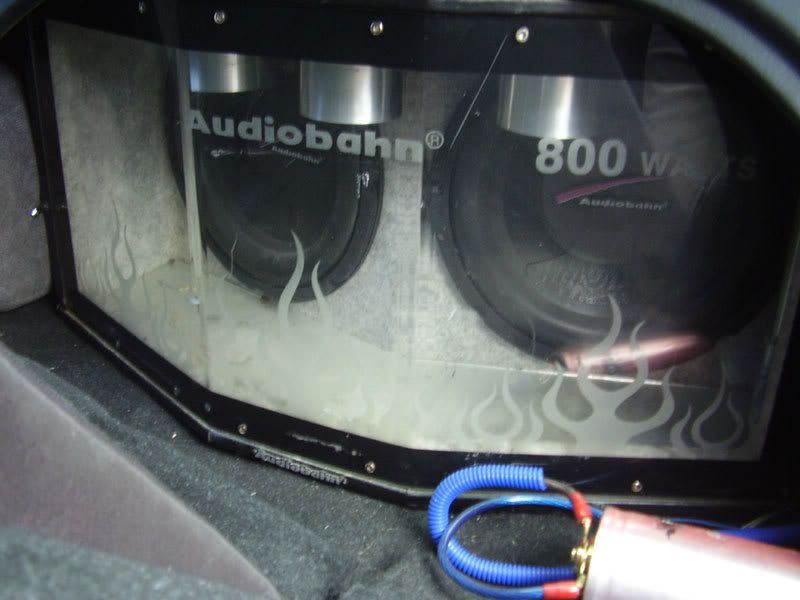 Exterior Modifications:
• Le Bra
• Debadged Trunk
• Chopped Antenna
• 20% Tint w/reflection
• StreetGlow Underbody (Blue)
• 17" Enkei DM-5 with Kuhmo 215 40 17
• Smoked Sidemarkers
• Smoked Tail lights
• Hella Optilux Projector Fogs
• 6000K HID Conversion Kit
• Chrome Door Handles
• Chrome Headlight Bezels
• FlyRyde Angel Eyes
• Custom Korean Style License Plate
Interior Modifications:
• Painted Dash Fascia (Intense blue pearl)
• Relocated Trunk Badges
• Streeglow 9" Neons in Footwells
• SRP Glow Gauges
• TWM Short Shifter
• OEM Tiburon Leather Shift Knob
• Aerospeed leather shift boot
• Tiburon Pedals
• "XD" Carbon Fiber Door Sills (Compact Divisions Special)
• "ElantraXD" custom Mission plate (MidnightWolf.Com)
• HVAC Conversion (Ilanpro)
Performance:
• Short Ram Intake
• Slave Cylinder Mod
• Upgraded Battery Terminal
• XTD Stage 2 Clutch
• Springtech Springs
• Rotorworks D/S Rotors
• Bendix Brake Pads
Electronics:
• Sony Xplod MEX-1GP Gigapanel Headunit
• 2 12" Audiobahn subs
• 750W Pioneer amp
• 1 Farad Rockford Fosgate Capacitor
• Wired XM Radio
WytchDctr
2003 5spd
that's how fast it is
Engine:
3inch custom SRI/CAI hybrid intake
2 1/4 custom exhaust (hidden)
Unorthodox UDP
Magnecor Wires
Trans:
ACT clutch (w/ street performance disc)
KJB Shifter Bushings
Slave Cyl Mod
B&M Short Throw
Suspension:
Sprint Springs
KYB Gr2 Struts
Lancer Rally OZ Rims
Looks:
Custom Wytch Grill
KDM sidemarkers
Painted bumper vents
TAZ
This is my 2004 Elantra GLS Sedan 5spd....
EXTERIOR:
- Smoked Tails
- GT Front Bumper cover
- Painted to Match Headlamp's
- Turn Signal Mirrors
- Limited Door Moldings
- Black Spoiler
- Black Trunk Garnish
- Chrome Grill
- Chrome Fog Lamp Covers
- Tinted Windows
- 6000k HID Conversion
- Running Lite in Headlamp
- Blue LED "City Lite"
SUSPENSION/BRAKES:
- BSE Lowering Springs
- Kyowa 17" wheels
- Painted to Match Calipers
- Tiburon Rear Sway Bar
- Drilled/Slotted Rotors
- Front Strut Bar
- Rear Disc Conversion in the works
ENGINE:
- Nology Hotwire
- Custom Intake
- Painted Valve Cover
- Painted Engine Covers
- Custom Cat Back Exhaust
INTERIOR:
- Painted to match trim pieces
- Blue LED conversion on door switches
- Custome Blue/Red LED's in the Cluster
- Painted to match Seat Back Plastic's
- Red Neon for Foot Wells
- Re-wraped door inserts in Black Vinyl
- 2007 Tiburon Multi Gauges