slyderdai
mod list:
Performance: very short
evofusion header (all hacked up on on there from the previous owner)
coolant bypass mod.
Appearance:
KDM style headlights
smoked clear side marker lights
accord side skirts and front lip
Custom painted Midnight gray side moldings
20% tint rear
35% tint front
Chrome trim rings on Painted Midnight gray steelies
Audio / Video
Dual (wal mart special) mech less head unit
Pioneer speakers in the doors and rear deck
300 watt Sony Xplod amp
10 kicker comp vr sub in custom built trunk box
Interior:
Tiburon aluminum pedals (still need the dead pedal)
white face gauge overlays
blacked out dome map and door lights
Pics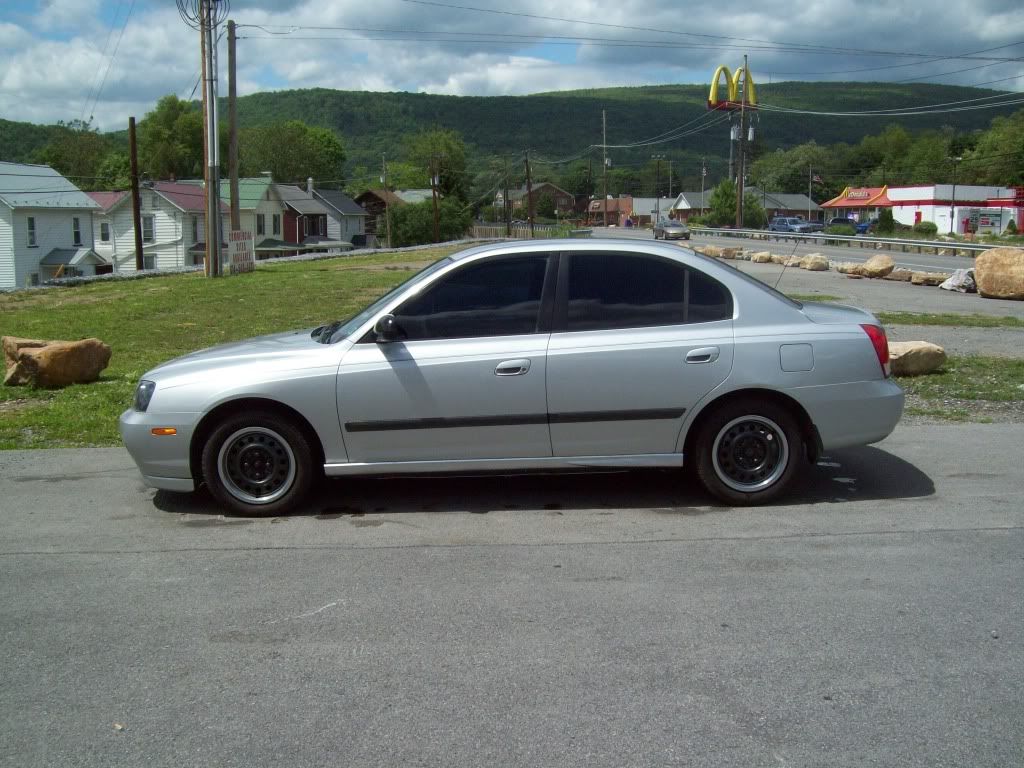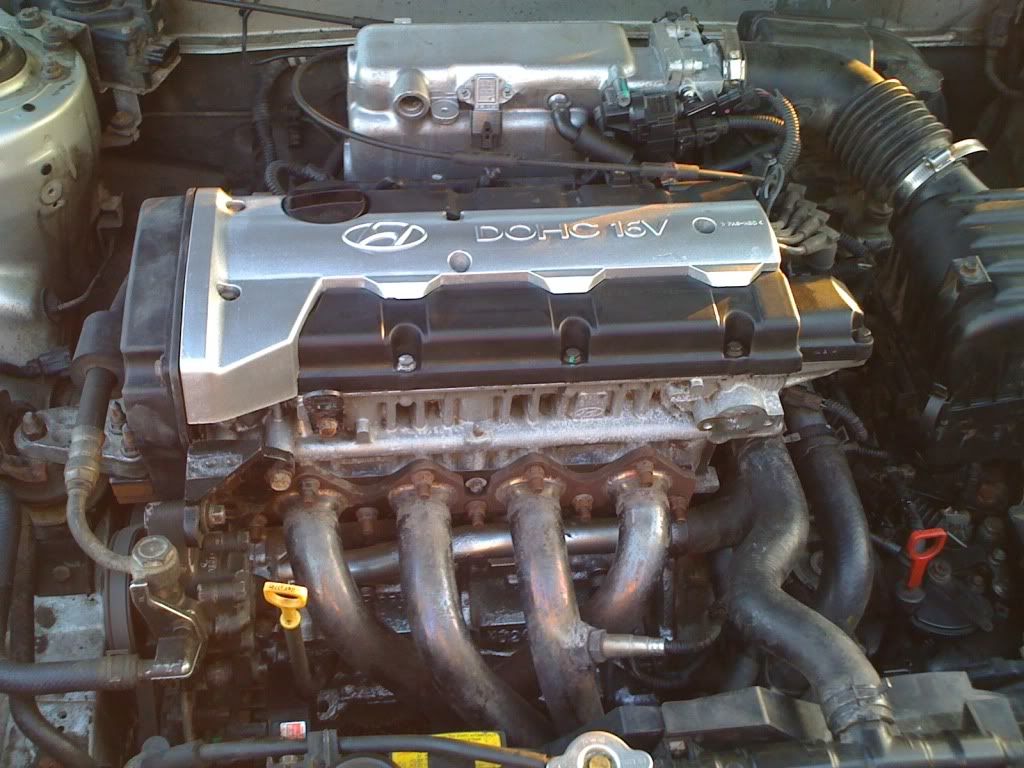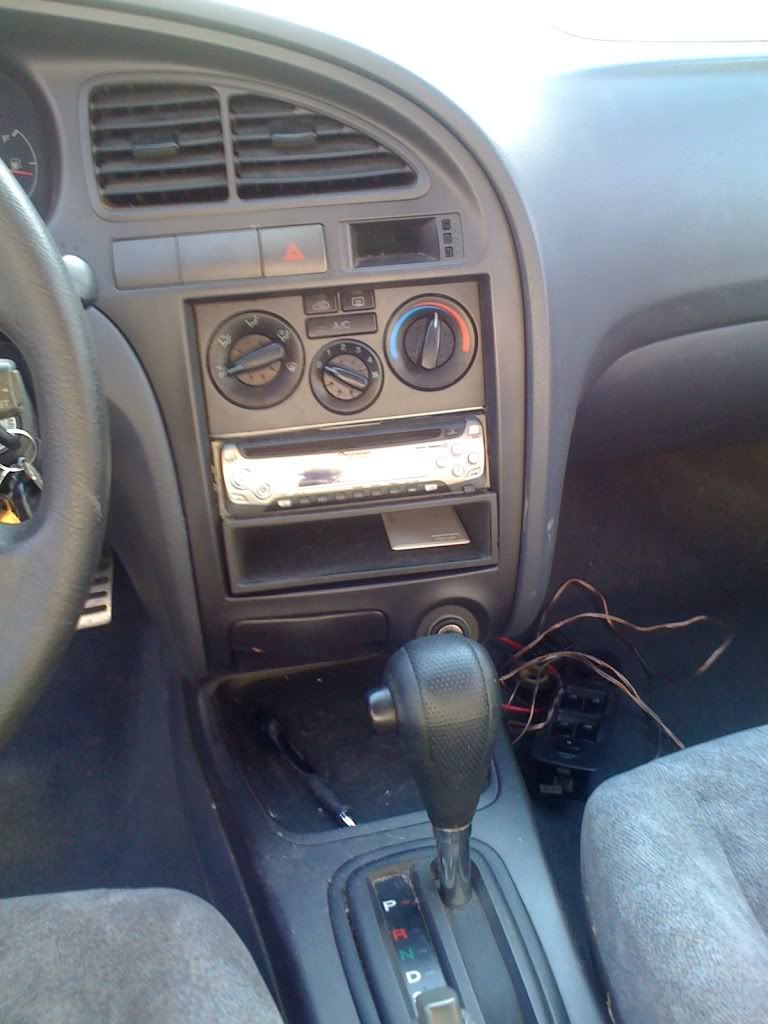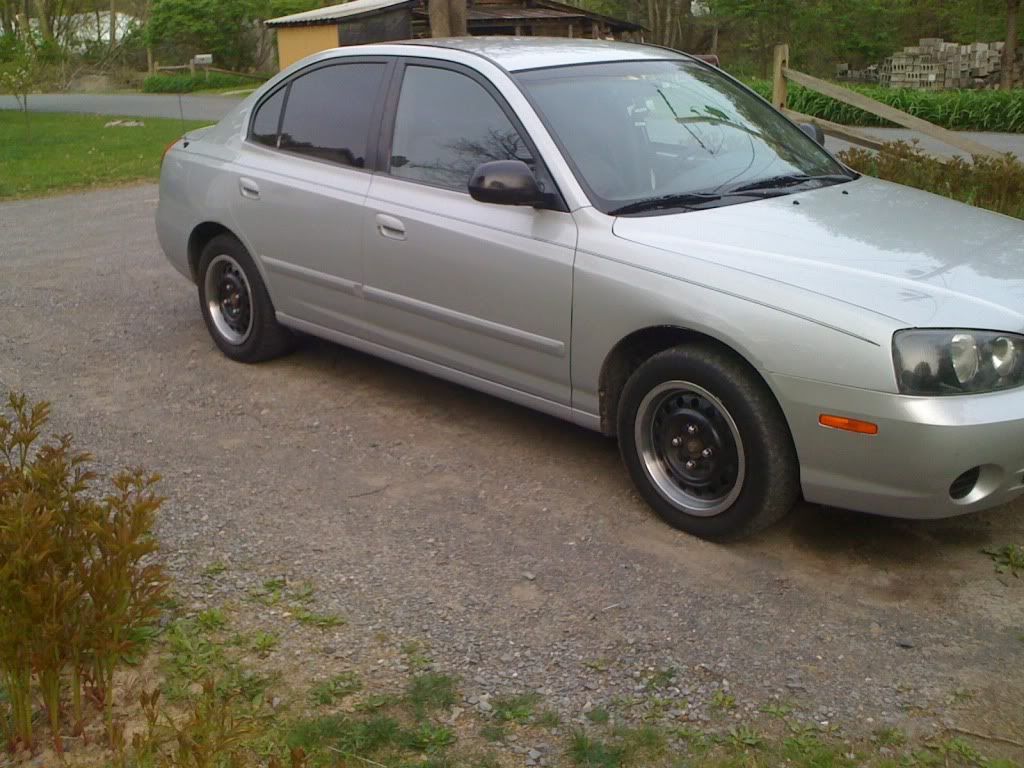 songee623
Performance
--------------------------------
accord air intake 3inch
engine torque damper kit (blue)
catch can mod
voltage stablizer
engine ground wire kit home made (black)
evofusion (gen 1) catback exhaust with silencer
ngk plug wire's (blue)
oil temp gauge ( 7 color tinted )
oil pressure gauge ( 7 color tinted )
vacuum gauge ( 7 color tinted )
custom digital volt gauge ( switch blank used )
tsunami -negative battery terminal (chrome)1 =1/0g 1=4g 2=8g
optima red top battery
Engine Bay Dress Up
-------------------------------
black silicone hose for catch can
blue silicone hose for radiator over flow tank
blue silicone hose for window washer
black silicone coupler's on intake
window washer hose tucked into hood
custom maf cover with avante xd in chrome
chrome oil cap cover
chrome radiator cap cover
window washer cap, power steering cap, brake resovior cap all painted blue
fuse box custom blue paint job with skull
radiator support's body color
Body Mod's & Lighting
---------------------------------
Evofusion 4 part lipkit
DDM 4,500 hid kit with wiring harness for stock fog light's
DDM 4,500 hid kit with wiring harness and glare sheild's (tricked)
kdm headlight's with clear turn signal's
after market mesh grill
lower bumper meshed to match top grill
tinted window's 30% all window's
avs window guard's
custom gt badge in place of H on trunk
shaved emblem's on trunk
yellow after market fog/running light's
kspec carbonfiber badge
euro short antenna
kdm chrome door striker's all 4 doors
fiamm high & low horn's
headlight eyeline's
kdm blue mirror's
kdm led turn siginal mirror cover's
m3 lip on back window
kdm molding's with out amber light's
turn singal's changed to xd with running lite and turn singal up front
5 smt city light's
red natural glass third brake light
chrome/amber turn signal's rear
red natural glass brake light's
red natural glass 194 running light's
9 smt led back up light's
Wheel's & Suspension
----------------------------------
19.2mm tiburon sway bar/energy suspension bushing's (red)
falken tire's ziex ze 512 215/145zr17
falken rim's torque 5 glossblack w /polished lip 17x7 23lbs
stock gt rim's winter wheel's
road race motorsports front strut bar
shark racing rear strut bar
Interior & Lighting
-----------------------------------
issotta leather shifter boot
isotta e-brake handle & leather boot
tiburon pedal's & dead pedal
kdm chrome tweeter ring's
elantra chrome door sill's
sparco seatbelt pad's
3 x led light's in center vent's
2 x led light's in left and right side vent's
custom frosted and back lit gt badge in passenger side dash pocket
strobe light's and custom clear door marker light's
6 inch blue neon's in front door pocket's
led light's in all 4 door handle pod's
body color door handle pod's
kdm chrome door handle's
dome light blue 18 led's
door chime dissconnected
12 micro led light's in front speaker grill's
kdm xd2 ticket holder
custom mission plate with skull
hvac & clock swap (blue color)
kdm hvac knob's
hvac face painted body color
1 led blue in ash tray
1 smt led blue lighter
1 smt led blue ignition ring
triple gauge pod
6 x 9 inch neon tube's
2 x 6 inch neon tube's
6 x strobe light's
3 adjustable led's in large part of arm rest bottom part
5 smt led map light's
3 micro led's in change bin
3 micro led's in top part of arm rest
3 micro led's in sunglass holder
15 micro led strip on bottom of door panel (wired to clear door light)
5 micro led's under back seat cup holder
2 x 6 micro led's in front cup holder's
small ac vent's on dash by A piller body color
cap's for roof handle's painted matte black
back deck speaker cover's 2 color body color and matte black
3rd brake light housing 2 color body color & matte black
In Trunk & On Amp Board
-----------------------------------
10 strobe light's in trunk
10 inch purple neon tube
3 x 10 inch blue neon tube's
15 inch blue neon tube
12 blue micro led light's in tiburon sub shell
4 strobe light's on amp board
8 x 6 inch purple neon light's
3 micro led's in fuse block
15 purple micro led light's in 6 1/2 speaker grill's
3 fighter style switch's for strobe's, blue neon's, purple neon's
trunk floor redone with carpet to match amp board
black chrome fire extinguisher
Audio & Video
----------------------------------
back up camera
7 inch flip jensen with ipod hook up
tiburon inifinity sub shell with polyfill
4 way audio guage temp, vu left, vu right, volt
aura bass shaker's
soundstorm F2.200 amp
infinity reference 5350a amp with sub remote control
infinity reference 850w subwoofer
infinity reference 9613i 6x9 3 way
infinity reference 6012i 6 1/2 2way
infinity reference 6020cs 6 1/2 component's
boom matt speaker baffles 6 1/2
9 inch monitor on trunk lid
6 inch monitor on amp board
boss bvam5 video singal amplifer
all power / ground wire's and block's tsunami
4 gauge power wire and ground
8 gauge power wire and ground
4 gauge in two 8 gauge out fuse block
4 gauge in five 8 gauge out of ground block
1.5 frad digital power cap
4 way rca's front/rear and 2 way rca's sub
36sq feet of dynamat
Freddy Krueger
2006 Elantra VE sedan 5 spd
List of modification:
Engine:
-Summer set-up: Custom cold air intake with K&N cone filter
-Winter set-up: K&N OEM replacement air filter cartridge
with restrictor in upper half of airbox and
all tubing including the resonator removed
Transmission:
-TWM short throw shifter
-Flyride delrin shifter cable bushing
-Razo Comp sport pedal kit with adjustable toe plate
-Clutch master cylinder to slave cylinder stainless steel braided hose
Suspension:
-Mussa front strut tower brace
-Tuscani hard ''B''type rear sway bar (21mm) with MOOG end links
-Eibach Pro kit coil spring
Street wheel:
-17" X 7" Fast Blade Platinium
-205/45ZR17 88W XL Kumho KU31 Ecsta SPT
Racing wheel:
-15'' X 6'' Hyundai Elantra GT OEM mags
-205/50R15 89W XL Falken RT-615 Azenis
Exterior:
-Piaa Super LED blue/white wedge bulb marker
-Huyndai OEM Projector fog light
-Red Tail light flasher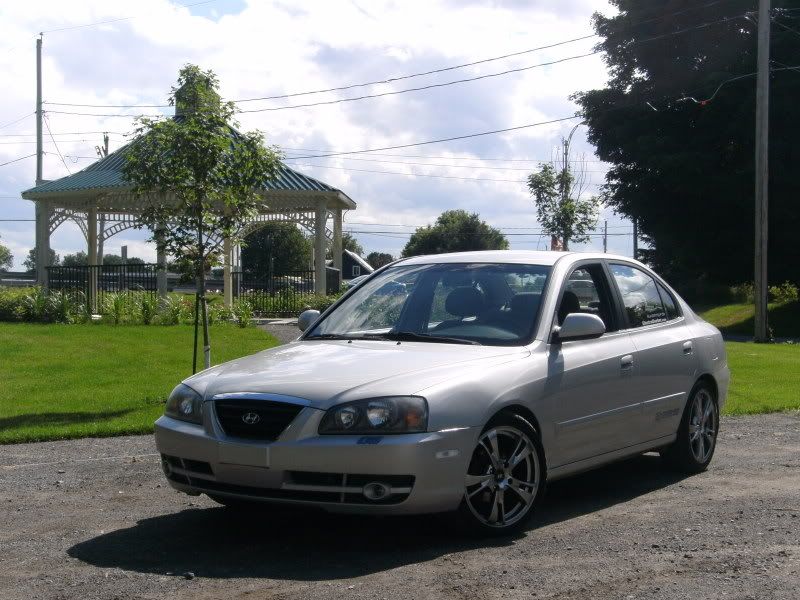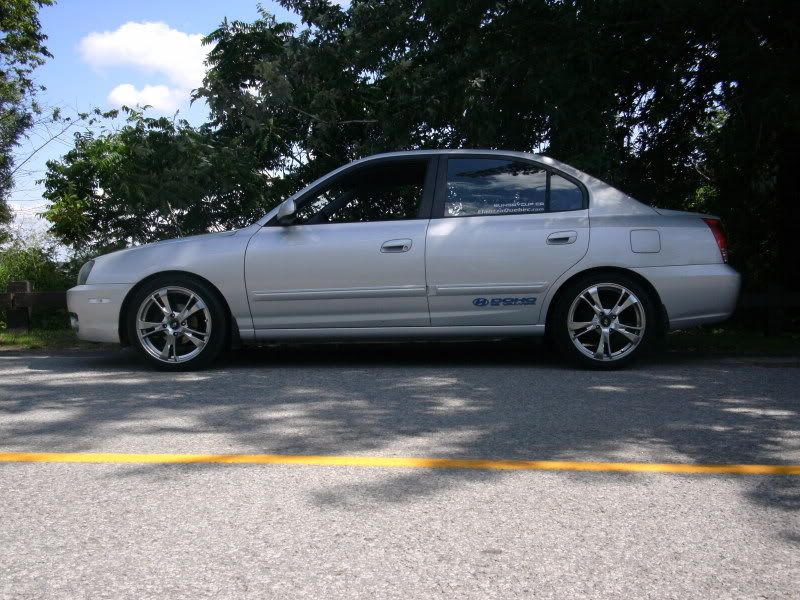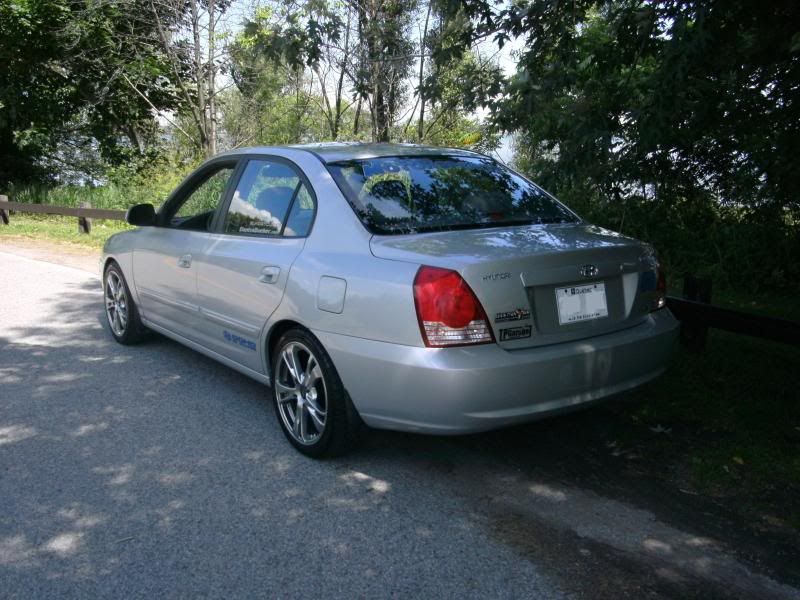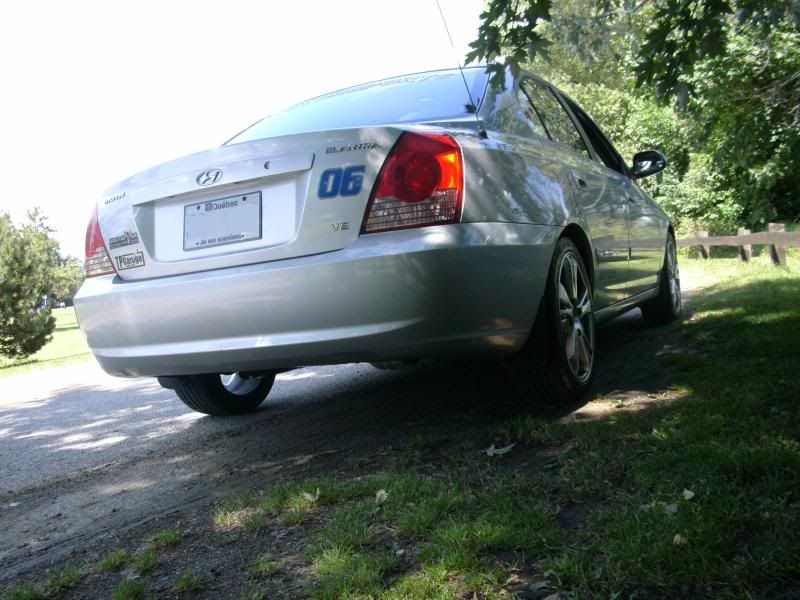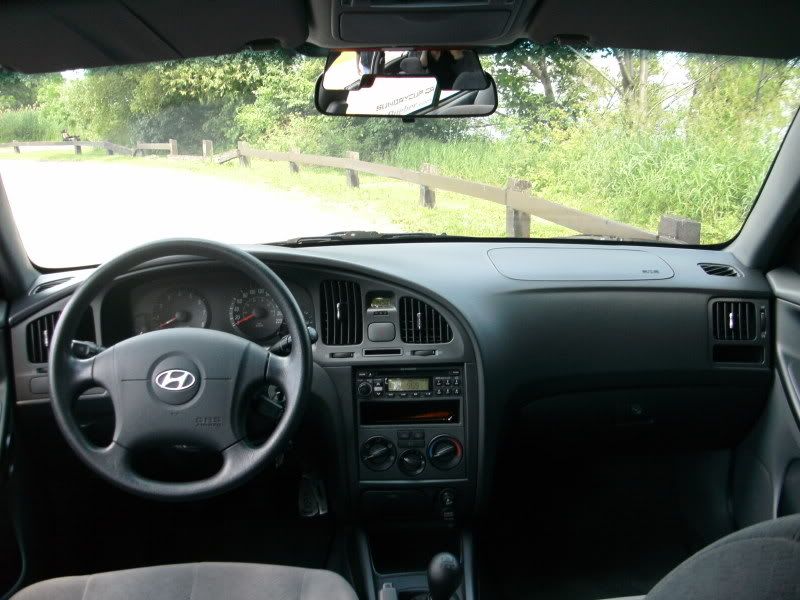 DO NOT POST IN THIS THREAD!!!!!!!!!!!!