Discussion Starter
•
#1
•
ki11er90
ki11er's 06 Elantra GLS
Interior mods:
Green Dome LEDs
Green Map LEDs
Green Trunk LEDs
Custom Change Holder Switches
Exterior mods:
Metal Mesh Grille with backlit Green LED
White License Plate LEDs
HID's
Debadged
Avante XD badge
Engine/Transmission:
Stage 1 Racing Clutch
Custom Lime Green CAI
N1 Titanium Muffler
Lime Green Painted Engine Cover
Audio/Video/Security
Dual Head Unit
Tibby 8" subwoofer
Dual 300 watt AMP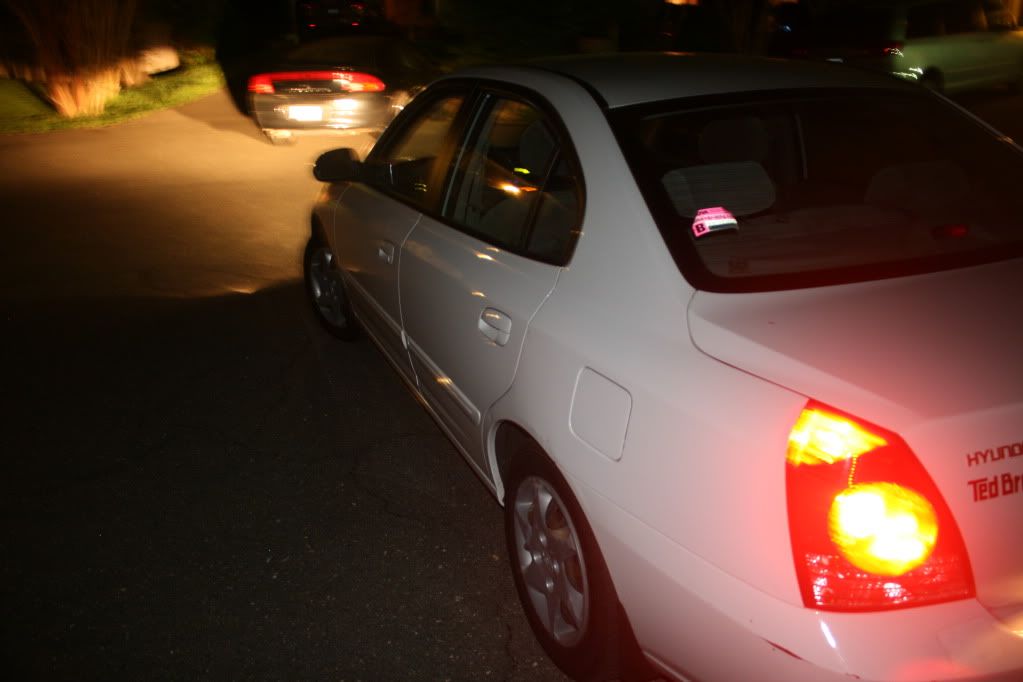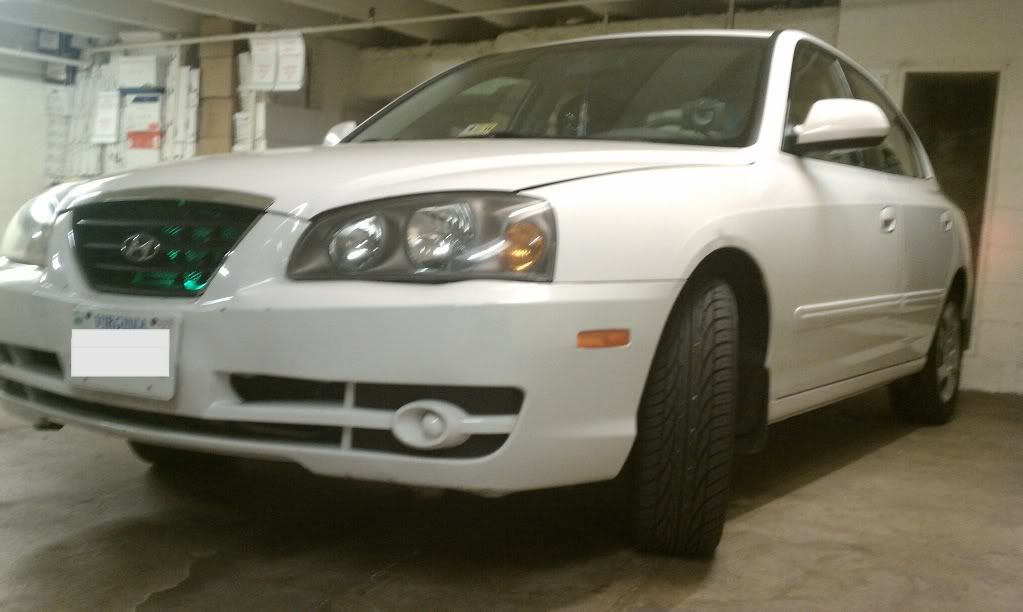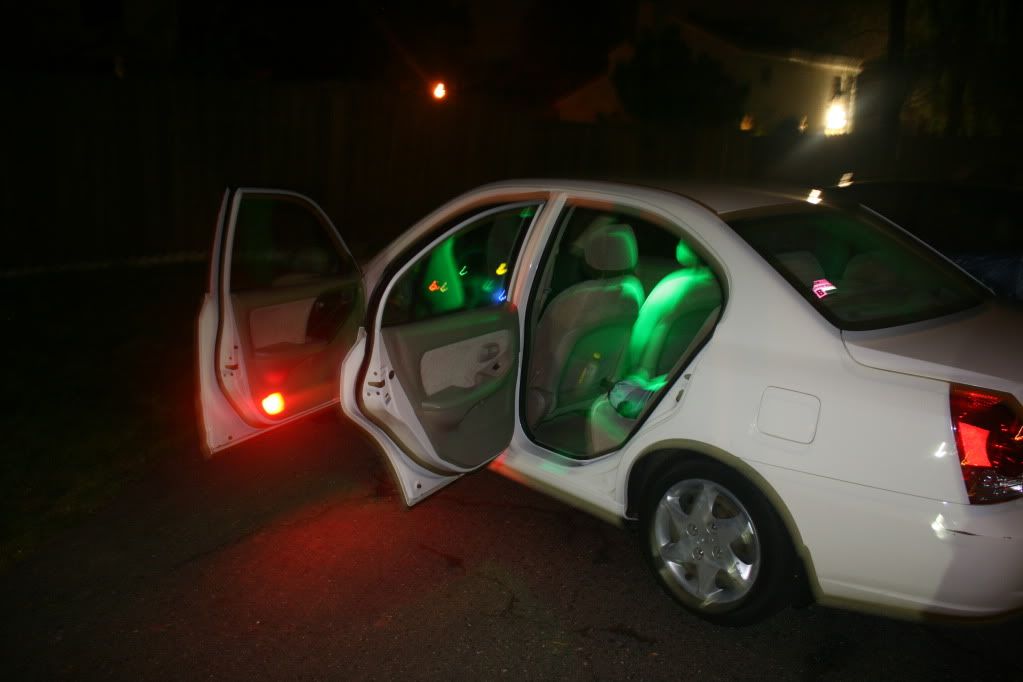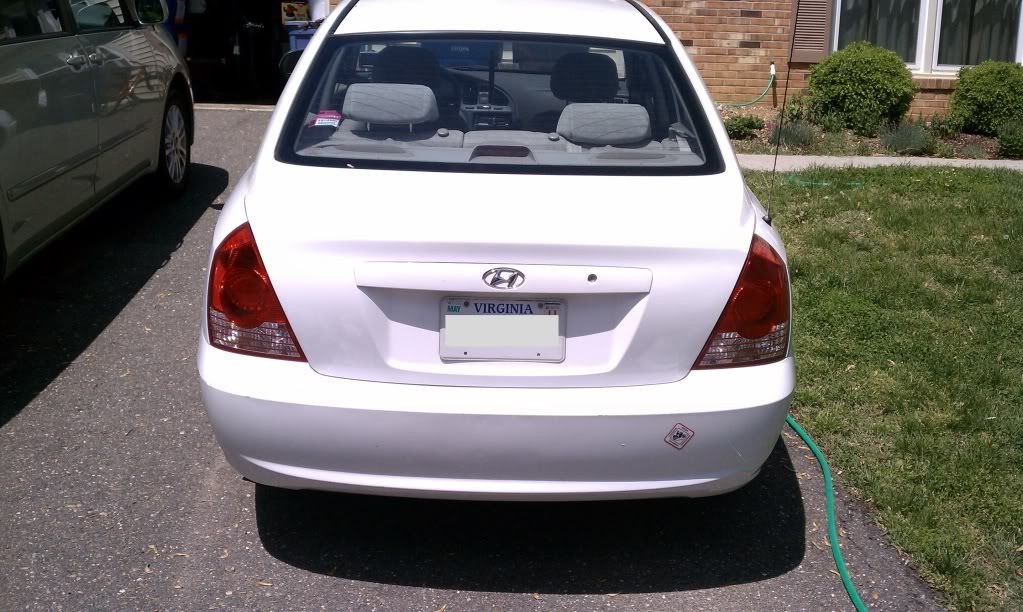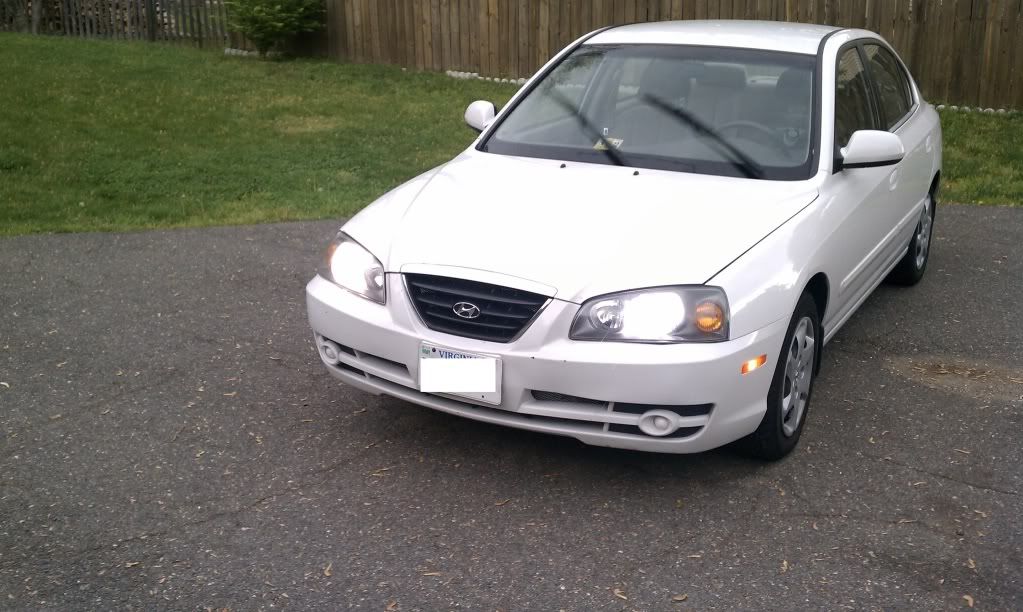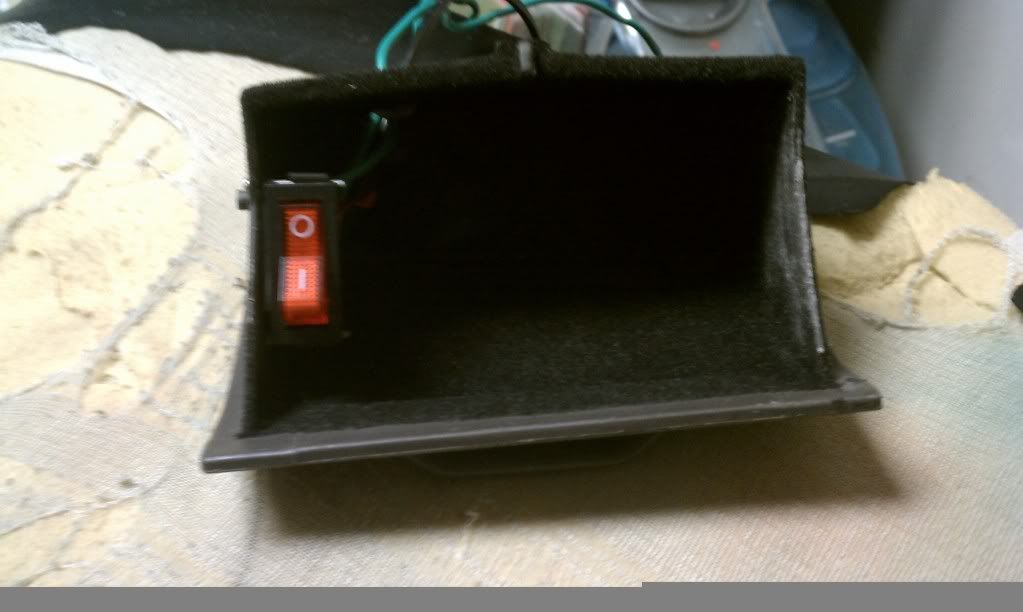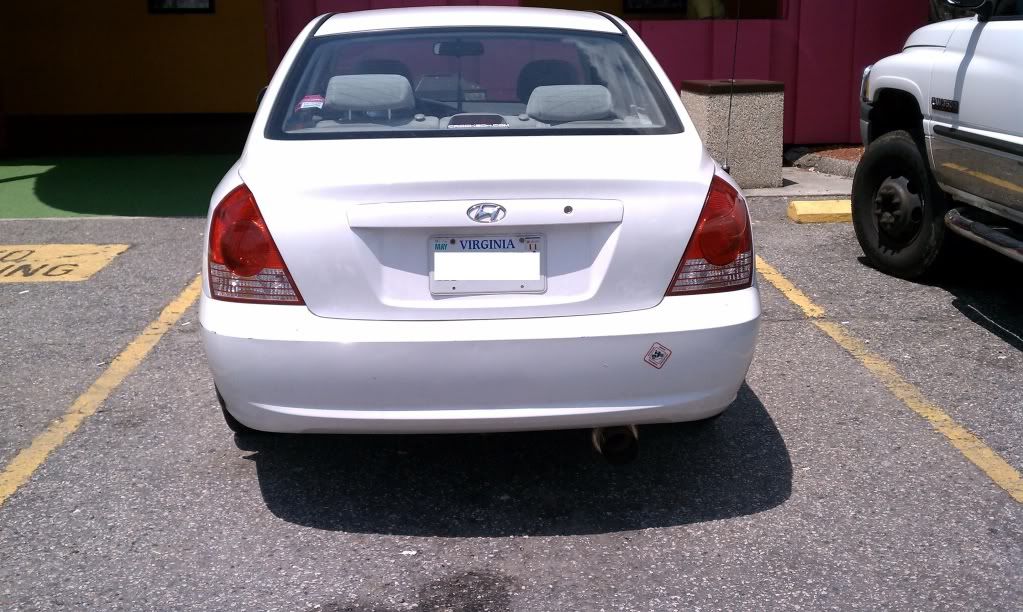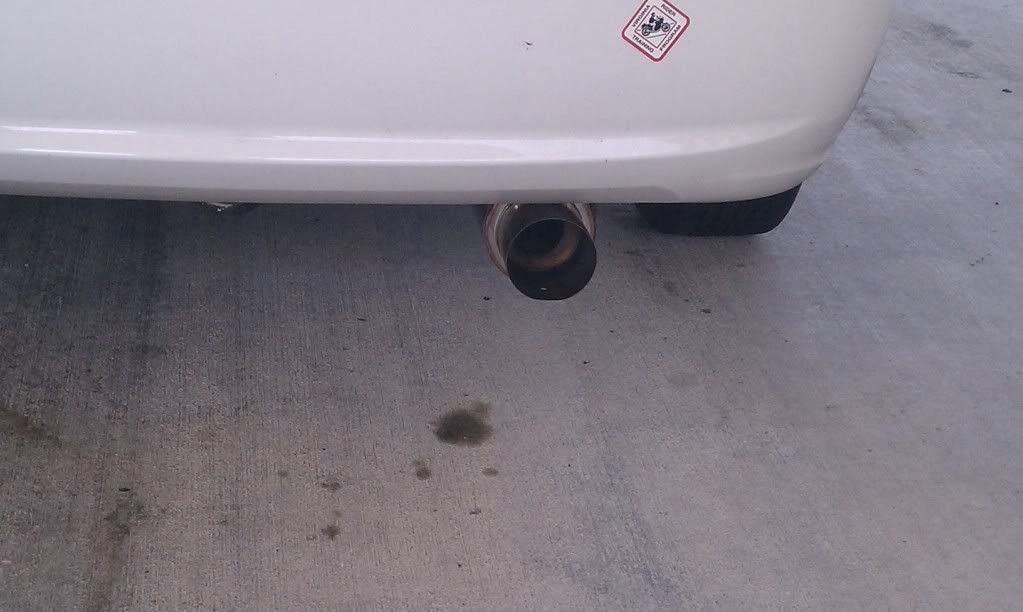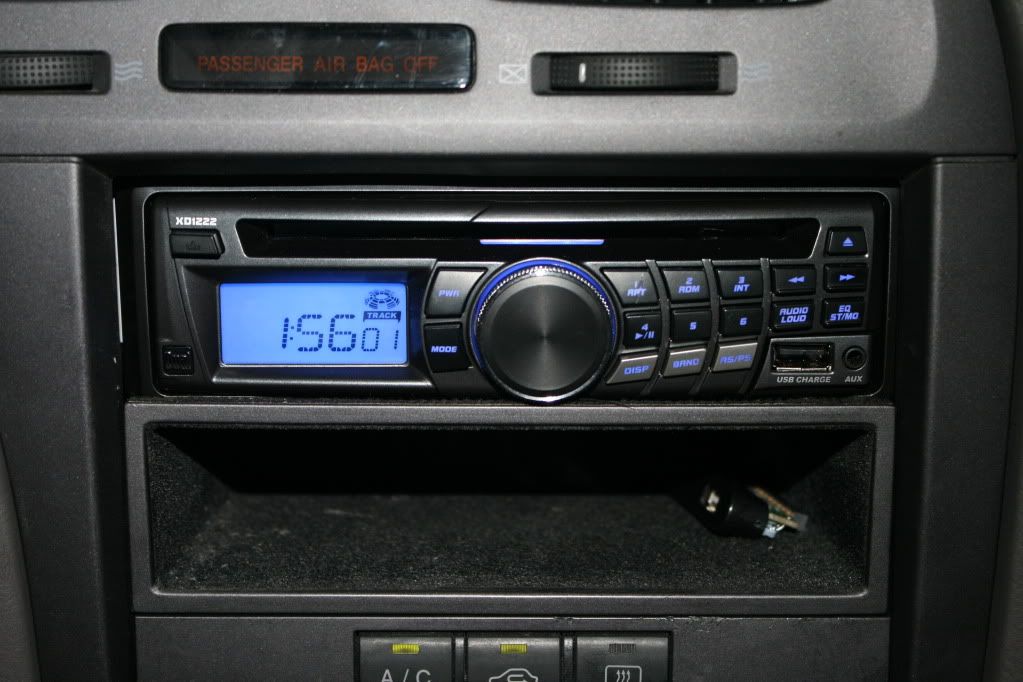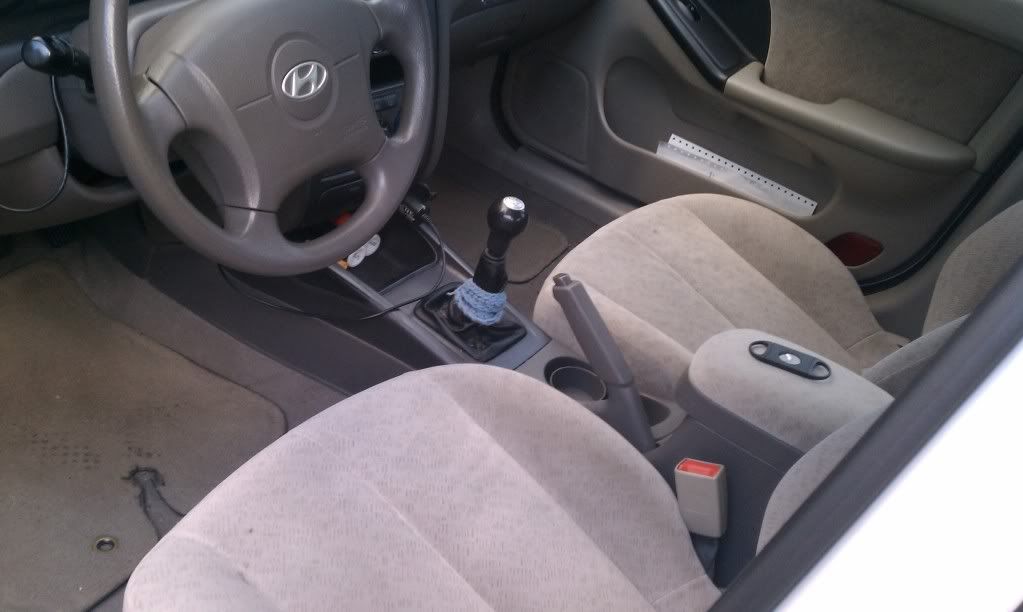 bdiggy
Bdiggy's 04 GT Modifications Exterior:
Road Runs grill
Clear signal head lamps
Smoked marker lights
35% tints
Debadged
13" euro antenna
Smoked tail lights
Silver painted brake calipers
4500k HID los
3k HID fogs
Yak rack
Interior:
Door chime delete
TWM short shifter
Painted switch plates & HVAC
TWM weighted shift knob
Redline custom leather shift boot
Blue neon door lights
Blue neon trunk light
Fully Dynamatted trunk
Smoked dome & map light's
Custom 2-toned rear speaker grill's and 3rd brake housing
Audio/Video:
JVC HD CD head unit
JVC Ipod interface
80G Ipod classic
XM tuner
Memphis 1000w PRD mono
12" Type R Alpine sub
Custom Evilcalvin sub box
Suspension/Brakes:
H&R Sport springs
KYB GR2 Elantra struts
Drilled/slotted rotors
17x7 ADR Venemous 42mm offset
215/45/17 Lexani N3000 tires
ARK front strut bar
19mm Tib sway bar
Energy Suspension greasable poly bushings
Engine/Exhaust:
Custom 8ga blue ground wires
Ebay 3" SRI
AEM Dry Flow filter
Hood spacer's
EF catback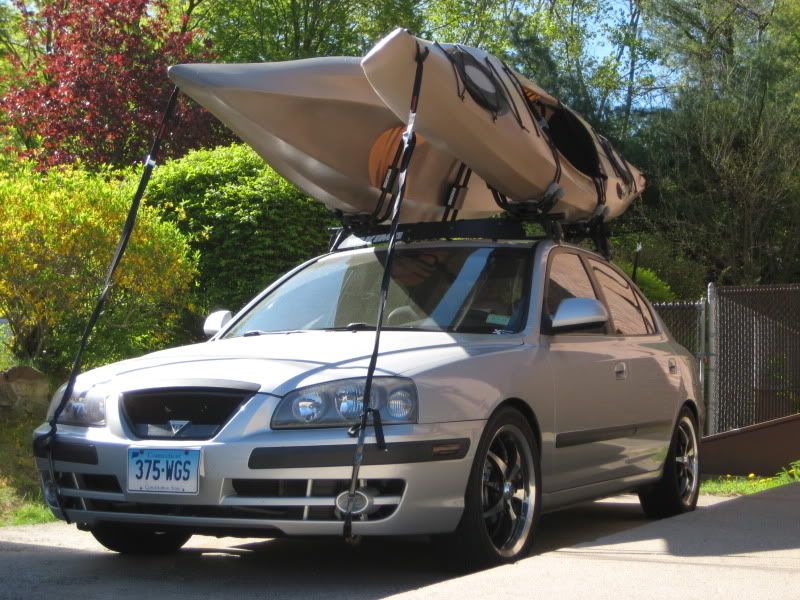 smileymattj
I try to keep mine clean. I like my interior/engine bay spotless and keep my headlights and taillights clear as brand new. I will not do a mod that will drill holes into dash, I always do it clean and hidden. Totaled twice and still not a single dent on the car. Any part that is missing off the car, I have it brand new. I just like it the way it is.
Body
EVO III Full Body Kit /wing & JT autostyle fog lights (currently not on, but I have the full kit)
Black painted grille
Fender Flares
Stock Steelies, no hub caps.
Functional Dual Exhaust
Silver turn signal lights (amber when on)
Slyvania SilverStar Ultra High/Low
Halogen reverse lights
Polarized tint (is not cut around 3rd brake light, done the right way)
Interior
1320 lumens dome light
Black step shields
APC Blue Full Racing seats
APC Blue neon pedals
APC Blue flame neon rope lighted floor mats (used to protect my factory elantra floormats)
Rear seat removed
B&I Carbon fiber dash kit
ChickFilA Cow, Cherry air freshener
Engine
Air Horns
K&N panel air Filter
Mobil 1 0w-30 / OEM filter
Y piped exhaust /w dual tips
muffler replaced and repositioned before the axle
Suspension
Tiburon rear sway bar
Electronics
Odessey PC1500T
40A Accessory power auto-reset breaker box (front and rear) All time power / Acc Power / Door open power / parking light power
Single tap Auto Up / Auto Down on all power windows, from all switches. Auto up when key removed and window lock off. Windows stay in position when key is off and window lock activated.
Panasonic CQ-9801U Head unit
Short antenna
Full computer hidden behind the dash
Xenarc MTD-x7000 InDash 7 inch touchscreen VGA monitor
JetWay J7F5M2G-VDE-LF VIA CX700M Motherboard
Supports WiFI B/G/N
All antennas, GPS, WiFi, XM antennas are hidden.
ElmScan ISO USB
Remote gate & Remote garage openers installed in sunglasses holder
Radar detector, power wire hidden behind the dash
Alpine 6x9
Blaupunkt 6.5 (custom mounted in factory brackets)
Dynomat sound deadening in doors and rear deck
400w 110v AC inverter
Playstation2
Backup cam installed/hidden in license plate (Acc powered, not rev powered)
XM radio HU optional module installed, Headunit controlled, module hidden behind dash.
3.5mm audio jack in dash, functions as PS2 headset plug, or iPod/Aux input without any switches
1500w RMS MTX 81000D amp /w matching sub
MTX 10" Sledgehammer sub in MTX Sledgehammer box
5 farad capacitor
Custom amp rack that mounts to spare tire location (no drill install)
Safety blinking 3rd brake light
FM transmitter (not used, just in there)
Threads about some of my mods:
http://www.elantraxd.com/forums/showthread.php?31955-Latest-project-(ElantraPC)&highlight=
http://www.elantraxd.com/forums/sho...wn-and-up-again-)-Auto-off-roll-up&highlight=
http://www.elantraxd.com/forums/showthread.php?35768-New-Speaker-Brackets&highlight=
http://www.elantraxd.com/forums/showthread.php?39850-Got-light&highlight=
Movies:
http://www.youtube.com/watch?v=JZDU_a_RPOQ&feature=player_embedded
http://imageshack.us/clip/my-videos/121/mov02707.mp4/
Elantra's History/Wreaks/etc:
http://www.elantraxd.com/forums/album.php?u=4230
Pictures:
DO NOT POST IN THIS THREAD!!!!!